Guyana Oil Company (GuyOil) yesterday paid out reimbursements related to several dozen Essequibo Coast residents at its Adventure offices after it recently sold them tainted fuel.
The oil company made a decision to repay all affected customers along the Essequibo Coast late last week and scores of persons turned up at the fuel depot at Adventure to collect their monies. Drivers in the area told this newspaper yesterday that the oil company made an across the board payout of $10,000 to each of its customers and one driver stated that the sum covered the repairs which the drivers were faced with making to their vehicles.
He said that a number of customers, who purchase fuel from the 10 GuyOil–affiliated fuel stations along the Essequibo Coast, received payments yesterday while several persons encountered problems obtaining payments since they could not provide evidence that they sourced their purchases from the oil company last week.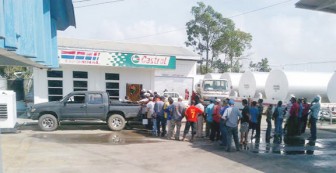 By midday yesterday, the payout concluded as the company ran out of money and several persons vented their anger at the situation thereafter. However, a motorist said that the company is expected to resume the payout today.
Reports are that a bulk quantity of fuel, which was recently shipped to the area, may have been contaminated as it was transported to the area in a tanker which had transported another fluid to the Guyana Power and Light (GPL) bond in the area on a previous trip.
The state-owned oil company stated over the weekend that it was investigating the discharging of alleged tainted fuel from its dealers on the Essequibo Coast and had taken a series of steps. In an advertisement which appeared in the Guyana Chronicle, GuyOil said that following recent complaints of excessive engine smoke seen by outboard motor customers and the rise in engine sump oil noticed by car customers, it had launched an investigation.
The sale of gasoline has been stopped at the Adventure Depot and at all dealers on the Essequibo Coast and the alleged tainted gasoline purchased by dealers was returned to the depot for which credit was given.
GuyOil also said that the gasoline at the depot will be disposed of and that fresh gasoline has since been delivered to the depot. It added that complaints by customers are being addressed and that it regretted any inconvenience caused.