A senior Antiguan attorney has said that it was improper for the police to publicly declare Sir Ronald Sanders a person of interest in the IHI debt settlement scandal even as Sanders has said he will take legal action.
The Antigua police last week named former Antigua prime minister Lester Bird and Guyanese-born diplomat Sir Ronald Sanders among persons of interest in a probe into a fraud case and made a special appeal for Sanders to make himself available to the police on the island. Sanders, through his lawyers, has since issued a statement saying that he is "willing to answer questions from the Antigua police that are properly put to him." He later told the Antigua Observer that he will take legal action.
The statement from Sanders attorneys, the UK-based BCL Burton Copeland law firm, said it deplores the police's "absurd" statement because Sanders is "a regional commentator whose website and means of contact appears weekly throughout the Caribbean. Further, he appears regularly on television and the radio and he is active on the international stage.
"The language of the (police) statement and subsequent statements are both defamatory and wrong in describing legal process in matters such as this," the statement said.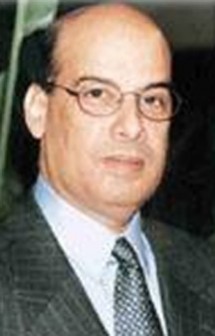 In a statement posted on the website of the Antigua and Barbuda Government, the police said: "Criminal Investigations into the multi-million dollar (IHI) fraud case are progressing at a steady pace; notwithstanding the recent break in and theft of sensitive documents, at the office that housed the detectives who are working on the said case.
"Based on the contents of a report, that was done by Financial Forensic Investigator Mr Robert Lindquist, which was corroborated by preliminary police enquiries, the 'persons of interest' in this case are, former prime minister, and member of parliament, Mr Lester Bird; Member of Parliament, Mr Asot Michael; Patrick A Michael & Co Ltd; Mrs Gesel Michael; Sir Ronald (Sanders) (a former Antigua and Barbuda Government Ambassador to the United Kingdom) and others.
"Currently, most of the 'significant persons' or 'individuals of interest,' have already assisted the investigations and presented themselves to the police to be interviewed, against such a backdrop and in the police's quest, to advance this gigantic multi-million dollar criminal conspiracy. The police are making a specific public appeal to Sir Ronald (Sanders) and requests that he presents himself to the (IHI) detectives to be interviewed; hence his full co-operation for the duration of this criminal enquiry will be appreciated."
The police had said that all efforts to privately contact Sanders had proven futile.
Yesterday, the Antigua Observer reported that prominent attorney Sir Gerald Watt, QC, has said it was improper for the police to publicly declare Sanders a person of interest. Speaking on the Big Issues programme on Sunday, Sir Gerald said the matter could have been handled differently.
The Observer reported that Watt said even though the police may well have a proper defence, he believed that their next tactic should be to publish an apology before the whole situation escalates. "If I was advising the police I would simply say to my clients, I think you should publish an apology and just state that it is not your intention to hold him as a suspect and let the matter rest. Go ahead with your investigation; you bring him to court you win, you lose or you do not have enough evidence and you do not proceed," Watt was quoted as saying.
"Don't forget long after if Sir Ronald Sanders is exonerated by a court, his position, not only in Antigua but in the region and internationally, if he wins it's going to be horrendous damages and if he does, his reputation has been irreparably sullied and that's not fair," he added.
Watt has also questioned the silence of Antiguan Attorney General Justin Simon and National Security Minister Dr Errol Cort on the new addition to the police force, who was sworn-in as a special investigator.
Guyanese attorney Sanjeev Datadin's appointment has been heavily criticised by the opposition Antigua Labour Party (ALP) and former police commissioner Rawlston Pompey, who expressed concern that the proper procedures were not followed when the lawyer was sworn-in.
According to Watt, Pompey is on the ball.
He also questioned Datadin's statement that he was sworn-in, rather than appointed as a special constable. "Justin Simon QC is the chief advisor to the government of the state of Antigua & Barbuda and so any appointment of someone in a capacity such as Mr Datadin has found himself should be to the knowledge of the attorney general and the minister responsible for police at the very least," the Observer quoted Watt as saying.
"It's clear that Mr Datadin doesn't know what Section 72 of the Police Act states. Section 72 states that the commission may appoint special constables. That these special constables are to be appointed for a specific period of time not more than three years," he said.