Complaining about the abuse their children face at schools outside their community, a group of parents from Ituni, up the Berbice River, in Region 10 on Monday staged a protest for the return of a secondary-level school to their area.
The parents' actions were prompted by reports of poor conditions at the Kwakwani and Linden Foundation secondary schools' hostels that house their children, who they said have been victims of physical violence and sexual abuse, resulting in one case where a teenager returned to her home community pregnant.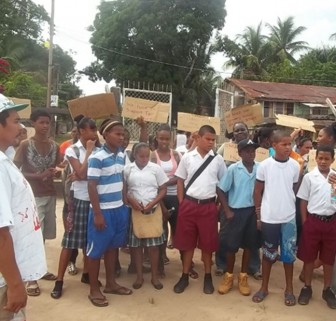 "Nobody looking into this thing, nobody. They just dump we children there and they got to make do with whatever conditions… ," said a mother as she broke down into tears at the Kwakwani Secondary School, where the protest was staged.
Stabroek News understands that a team of regional officials led by acting Regional Executive Officer Yolanda Hilliman was deployed to Kwakwani to defuse the situation and launch an investigation into the allegations.
Students from Ituni were placed at the schools after the primary-top system at the Howell Wilson school in their community was disbanded two years ago. Parents said that they pleaded with the authorities to allow the primary top system to continue in Ituni because they could not afford the cost of maintaining their children living away from home.
"I can't see how they have a double flat building and got boys and girls sharing the same space; that is totally unacceptable and they have other children from the Berbice River who staying there and like they were afraid to talk about what does go on in there but we can't take this thing no more," complained one distraught parent.
She said that since her child has been housed at the Kwakwani hostel, there have been several reports of violence, with the most recent case resulting in a child from Ituni being cut in the face with a razor.
A teacher attached the school also attested to the fact that the conditions at the hostel are adverse and require urgent interventions.
They were also complaints of similar conditions at the hostel in Linden. Parents said that they are finding it difficult to understand the circumstances surrounding a teenager from Ituni who was placed at the Linden Foundation Secondary School becoming pregnant while in the care of a housemother and supervisors.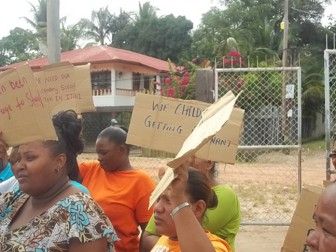 "What is really going on? And the sad thing is all these things the probation department is well aware of and we don't see any of these things in the papers or on the TV, is a big secret. These things must come out so that people could look out for our children. Right now, as far as I concern, our children are being taken advantage of," stressed a parent.
Investigations
According to the residents, the Department of Education should have consulted with residents before discontinuing secondary-level classes in Ituni. They said that teachers from the community are currently in training college and will return to work with the children in Ituni. They were confident that a secondary department in Ituni could shepherd students to write at least five subjects at the CSEC examinations.
But Regional Chairman Mortimer Mingo, who confirmed that there was a report of a child who was resident at the Kwakwani hostel being pregnant, said that investigations are in progress at both hostels and urgent corrective measures were ordered to be taken immediately, where necessary. . "Now the thing is it is not clear if that child got pregnant during the holidays or during last term at the hostel," he said.
He, however, noted that the protesting parents were mainly those who had children attending the Kwakwani and Linden Foundation secondary schools that were living with relatives or caregivers in the area. "They were saying that it was too costly for them," he said. Parents told the officers that they were not prepared to send their children back to the schools out of the community and would be keeping them at home until a secondary school can be placed in Ituni.
"They were told of the criteria for a secondary school to be constructed in any given area and they did not reach those criteria not even by half," said Mingo. He added that in a bid to cushion the cost of maintaining their children, who are currently residing with relatives and other caregivers away from Ituni, the Department of Education has offered housing at the Linden Foundation hostel, which has sufficient accommodation to cater for those and more students.
According to Mingo, based on information related to him by the team, at the time of their visit to the area on Monday all the students who were duly placed in the hostel at Kwakwani were at school except one.
"Only one boy was absent has not attended school for the term and when they investigated it was discovered that he was kept at home (Ituni) because his parents claimed that they could not have afford the expenses of sending him to school in Kwakwani," he said.
A similar situation existed at the hostel at the Linden Foundation Secondary School, where all the students who were registered were at school with the exception of a pair of twin girls, who were reportedly expelled for delinquent behaviour.
Around the Web