Motorists who use the East Bank Demerara public road, frustrated with enduring daily traffic congestion, are pouring cold water on the ongoing four-lane expansion and are calling instead for a new access road to be built.
However, Transport Minister Robeson Benn says government is committed to completing the four-lane highway project, while construction of a southern entrance would be done in the future when funding is secured.
Speaking with this newspaper, Benn explained that government has never ruled out building another road. However, a feasibility study undertaken sometime be-tween 2005 and 2006, by well-known engineers, had led government to expand the existing road rather than build a southern entrance, he said. The study had examined the social and environmental impacts.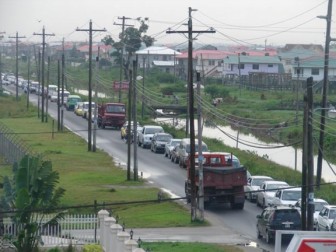 The minister acknowledged that along with the housing development schemes along the East Bank there has been an increase in the number of vehicles on the roadways, which is continuing.
When Stabroek News visited the East Bank Demerara highway to ascertain the source of frustration by road users, even engineers expressed concern that government was ignoring their calls for another road to be built. They stated that the long wait is evidenced mostly during rush hour on weekday mornings and in the afternoons.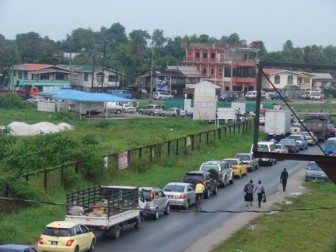 One woman lamented that the traffic congestion along the Diamond Housing Scheme main access road is not good for her or her children's health and she added that the cost of gasoline is eating into her finances.
"I am fed up with this traffic on the East Bank every morning. My young children [indicating the three pre and primary school children having breakfast in her backseat], have to wake up at 4 am to prepare for school. I have to leave home as early as 6 o' clock to get to work for eight, because if I leave later I am late. It tells on your pocket and your nerves because gas is wasting and you get grumpy stuck in these long lines," said an irate Elise Nelson, resident of the Diamond Housing Scheme.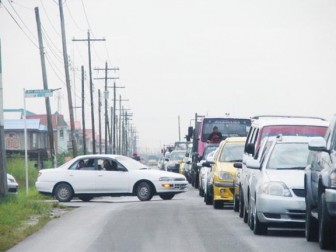 Nelson maintained that the extension of the East Bank Public Road into a four-lane wouldn't ease the congestion because more housing schemes are being built, making progress appear as "one step forward and ten backwards, because is the same road everyone has to use."
The mother of three recalled that repeated representation had been made at meetings for a new road to be built through the old cane fields but to no avail. "The East Coast has two roads and has fewer people plying that route.
What will happen if there is a serious accident or someone needs emergency care in the city? Have they thought all these things through? I have been to meetings years ago and we asked for another road, no reason is given but government don't understand because none of them get stuck in traffic. They have police outriders clearing the traffic for them wherever they go," she said.
Albert Walker, a resident of Land of Canaan, as he waited at the police manned traffic light at the intersection of Diamond Housing Scheme and the Grove Public Road, noted the hours he spends everyday as he journeys to work. He said there had always been a traffic congestion problem on the East Bank. However, over the last eight years it has worsened to the point where he is contemplating selling his home of 25 years and relocating to the city. "This is ridiculous. The East Bank needs another road," he said. "We don't want a road just to say we have a road; we need one. As more persons leave to live along the East Bank, it will get worse. Yes, a four-lane road is a good thing but it cannot solve the problem. I am sick of it. I am getting old. I can't continue to stress out myself like this every single day. I thinking of selling out and moving nearer to the city, man," he added.
Other commuters, when approached, expressed similar concerns. Some indicated that they were too stressed out to speak of the issue for fear of getting to work, and in one case school, in a bad mood.
Olivia Ramdeen, a Fourth Form student of the Tutorial High School was still awaiting transportation on the Grove/Diamond Public Road around 9 am when this newspaper approached her. She stated that it was because of waking after 6 am that she was left waiting indefinitely on transportation. "I normally wake up at five-ish. This morning I was tired and sleep away. If I don't come out by seven, I would go to school very late. Today is the perfect example," she said with a wry smile.
Traffic policemen could be seen directing the flow of traffic all along the East Bank Demerara road. At Diamond and Grove, officers informed that it was a joint operation, between the Diamond and Grove traffic police precincts, at strategic intervals that eases what would be extraordinary waits during the morning commute. One officer said they normally have to be on the road at least by 6 am and they don't leave their posts until after 10 am, by which time the flow of traffic normally wanes.
A traffic policeman also opined that the East Bank Demerara needed another road desperately. He said a new road is what it would take for East Bank commuters to notice any significant improvement. "While the four-lane road would help to ease the problem another road is needed. We are on the road from 5:30-6 every weekday morning to help bring ease," the policeman pointed out. Further, another policeman noted that the increase in the number of vehicle owners also added to the delays. He said, "You have to remember every year there are hundreds if not thousands of new car owners. Also, more persons are living on the East Bank and there is still more to come with this current housing boom. Add the number of cars, new housing schemes, the people coming from over the river, and a small road and you get a recipe for traffic disaster. Hopefully, when the road widens, we will get some ease because it isn't easy I'm telling you."
Several persons voiced their praises for the traffic officers, who they stated were very patient and hardworking. Among those were residents of Diamond, who said it was the traffic officers who usually bring relief in the mornings, since they manually direct the traffic, ignoring the traffic light, which, in their opinion, would result in even longer delays. One man, when asked about the presence of the many traffic officers seen, especially in the Diamond Grove area, chuckled, "They get dey ways but I ain't gon lie, here dey is do deh wuk. It ain't ordinary sometimes, because, especially in Diamond, some people go through different roads seeking a shortcut and then want to bore the lines in front of people who were waiting long, long. Is only cause a' de police mek we is get a lil ease, if not cat eat we dinner in these lines. We always bad talking dem but dey got their use. This fuh sure is one."
Around the Web