The Providence Stadium was on Friday night flooded with ecstatic fans of the three big names in the entertainment industry who performed at Digicel Guyana's fifth anniversary concert.
In Guyana for the first time each were American R&B recording artiste Keri Hilson and Jamaican Reggae/Dancehall singer Byiome Muir, better known as I-Octane. These acts shared the stage with Morgan Heritage, the band that drew thousands to that very venue some four years ago and caused quite a frenzy as the gates had to eventually be locked after the stadium reached its maximum capacity.
Many are to decide which performance has left the longest lasting impression.
Opening the concert were local artistes Adrian Dutchin and Jumo Primo—x2— who performed for no longer than ten minutes before I-Octane was welcomed.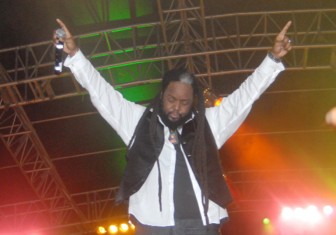 This artiste had promised to perform as though it was his "last concert on Earth" but to many, he failed to deliver. While some shared critical remarks and were seemingly disinterested in the artiste, others sang along and swayed to the tunes.
By the time I-Octane made his way off the stage, many more patrons had poured into the stadium.
Hilson appeared shortly, dressed in black shorts, a silver jacket, black sneakers and dark shades with a pulled-back hairdo and was received with thunderous screams. Her female back-up dancers, similarly dressed, with boy-cut hairstyles definitely brought the energy to the stage.
The fiery singer started the show with a bang, dishing out some of her most popular and pulsating songs such as "Slow Dance", "One Night Stand" and "Number One Sex".
At one stage, Hilson removed her jacket and flung it to the ground, revealing a yellow and red short vest which excited fans.
Hilson picked out a male fan, who said he answers to the name 'King'. This was to Hilson's liking as she explained that he could have said his name was 'Prince' but instead, "he's a man, a King".
Seemingly serenading 'King', Keri proceeded to sing "One Night Stand" which saw fans, male and female, young and old, screaming hysterically "We love you Keri".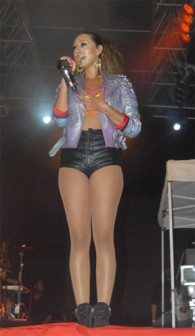 Hilson praised the audience. "You guys were first to bring me to South America so I'll always consider you number one… Guyana I will always have your back for being the first to bring me here!" she exclaimed before delivering yet another hit, "Got Your Back".
She then compliment Guyanese women using explicit language, before belting out Soulja Boy's, 'Swag On'.
Hilson, who has always insisted that she represents the ladies, before dishing out her biggest hit, "Pretty Girl Rock", invited four ladies from the audience to join her and dance to the song. But after being refused by the first two or three persons that were pointed out, she became agitated and said that she may be selecting persons from the wrong section.
"I have never had problems getting ladies to come up on my stage… This has never happened before! I'm taking from the VIP. I should have been taking from the back. That's the f*#king problem!" she stated.
After singing several songs from her second and most recent album, 'No Boys Allowed', a seemingly tired Hilson began to lose the audience and subsequently thanked them and left the stage. She had been performing for an hour.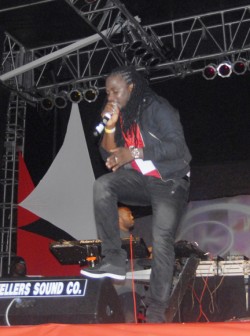 As fans waited anxiously for Morgan Heritage to appear, they were entertained by mainly Reggae music from Bob Marley and Beres Hammond. Although this was well received, patrons became impatient as the music break neared an hour and started to demand that the band be brought on stage.
The five-member band appeared at 2.30 am and it was obvious that the wait was worthwhile. In every performance, Morgan Heritage's presence on the stage is always more than enough to calm and yet excite patrons.
This concert was no different. Elated fans swayed and sung along to songs like "Nothing to Smile About", "Don't Haffi be Dread", "Down by the River" and "Leave the Young Girls Alone".
Lead singer, Peetah Morgan, commanded the stage as he swung his dreadlocked hair and belted out the well known songs, giving the feeling that he is completely at peace with himself and everything around him. After a one-hour performance by the band, fans seemed satisfied with the packed programme as no one called for the artistes to return to the stage but instead gracefully exited the venue.
The show, though it started punctually and ended in a timely fashion, had its flaws. The intervals were unbearably long and frustrating to many. There was also the issue of a less than perfect sound system which at some points overpowered the voices of the artistes, making it difficult to hear the words of the songs.
Around the Web