Relatives of a 27-year-old joiner of Campbell St, Hampshire, Corentyne who was found hanging in the lock-ups at the Rose Hall Police Outpost on Friday are not convinced that he committed suicide.
They told Stabroek News on Saturday that the police should have contacted them earlier and waited until they arrived at the outpost before they cut down the body of the prisoner, Bryan 'Kishan' Singh.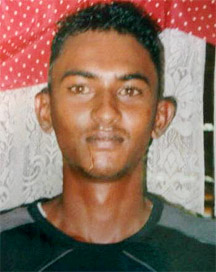 They said too that the police are giving conflicting reports about how the death occurred, and they are not sure exactly what happened.
The police had said in a release that Singh was arrested by members of the Rose Hall Town Council following a report of larceny of a bicycle from a teenager earlier.
The release said that he was found in possession of the bicycle and was handed over to the police at the Rose Hall Police Outpost where he was taken into custody and placed in the lock-ups.
During a visit to the lock-ups by the police at 3.30 pm, Singh, who was the only prisoner there, was found hanging from the inner grilled ceiling by his jersey, which the police said he had stripped into pieces, joined together and then tied around his neck.
His mother, Bijawattie told this newspaper that she was at work around 4.30 pm when the police went in search of her and told her she was "wanted at the outpost right away." She asked the police the reason and was told that her son was involved in an accident with a bicycle. Her employer, realizing that something was wrong asked the rank, unknown to Bijawattie, to tell her what exactly happened. It was then he broke the news that Singh had hanged himself.
Knowing of the medical condition of the woman her employer stopped her from going to the station and asked her for the daughters' phone numbers.
The woman said by the time she got home many persons had already gathered. Even at that stage she still did not realize her son was dead.
She later overheard another family member, who thought she knew, telling someone on the phone and she started to "holler."
According to relatives, they went to the outpost but the body had already been taken to the funeral parlour. When they checked there they saw the body [from a distance] with the piece of cloth still wrapped around his neck.
Relatives said that they are not sure exactly what happened and are calling for the owner of the bicycle to come forward. They also said that if a bicycle was indeed the centre of the matter, the police should produce it.
Around the Web