Three persons were injured when a Toyota AT 212 car, HB 9574 crashed into minibus, PGG 6993 on the Fort Wellington Public Road, West Coast Berbice around 12.40 pm on Saturday.
Driver of the car, Eon Hamilton of No 28 Village and another man of the same village, Franchot Cameron who was seated in the front seat received injuries to their head and mouth respectively.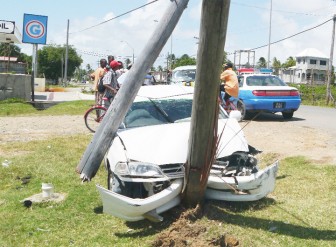 They were treated at the Fort Wellington Hospital (FWH) and immediately transferred to the Mahaicony Hospital along with another man who was lying on the back seat.
At the time of the accident, they were taking the man – who had previously been admitted to the FWH – for treatment. The man was also taken in the ambulance along with them after his previous medical condition worsened.
Samuel Benn, the driver of the minibus was treated for injuries to his back. He told Stabroek News that he put on his indicator and was about to turn into the gas station when he noticed two vehicles behind him slowing down. He had already started to turn when he heard the car, which was apparently behind the other two vehicles, honking. He said he did not see the car in his rearview mirror but felt when it collided with his bus.
The driver lost control of the car, flew past the bus and ended up crashing into a utility pole, breaking it in half. The pole also struck Hamilton in the head.
Around the Web