Thursday's float parade promises to be bigger and better than ever; yesterday Mash camps buzzed with excitement and anticipation and tension and competitiveness.
While some designers chose to represent this year's theme 'Mashing with Pride Keeping we Traditions Alive', in the familiar carnival-like scene, the staff and students of Burrowes School of Art felt different is better. Coordinator Volda Ramsammy said, "We try to stick as close as possible to the theme of Mash; not to look like Crop Over or Carnival. We create our own things". She gave an insight to the theme which she says is 'Guyana Pride and Joy' and will be portrayed by a band which consists of three sections. The first section, which she referred to as 'Celebration', will have the major float. The second section, 'Freedom', she says, carries the band Queen and her subjects, each dressed in a colour of the flag, who together represent the independence of our country. The third section is the mineral and wealth section with the male and female leaders depicting the richness of the land both minerally and culturally; her twist she believes is the choice to showcase the various religious representations as opposed to the common race representation. This band is expected to have some 300 costumed revellers along with its king, queen and two other individual floats. Burrowes School of Art is designing and making the Ministry of Culture's costumes
Carol Fraser managed to tie Guyana's Low Carbon Development Strategy into her design for the Ministry of Agriculture, which she calls 'Go Green and Grow: Keeping Innovation Alive'. This band caters to those environmentally friendly persons who believe in the ability for sustenance and growth through the proper utilization of Guyana's resources.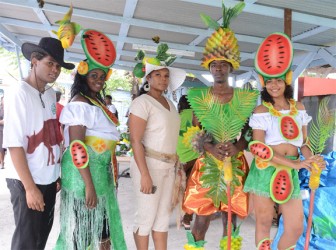 The 'Green Giant' band with a contingent of more than 1,400 is split into two sections catering for both young and old. Its first section is called 'ENVY' abbreviated for Energy, Novelty, Vibrancy and Youth of today's fast paced world. This band has ancient and modern-day fantasy figures all aimed at promoting a better life for all through devouring obstacles and providing overall growth which its King and male and female leaders are the embodiment of. Its second section 'Greneval' caters for the older revelers and those who do not wish to show much skin. The band's designers Nelsion Nurse, who designed 'ENVY'; Colin Henry and Shawn Litchotte, designers of 'Greneval' all agreed that green Symbolizes growth, life and progress hence, the choice of colour and insisted that contrary to rumours it has nothing to do with politics. Green Giant will take to the streets with live music.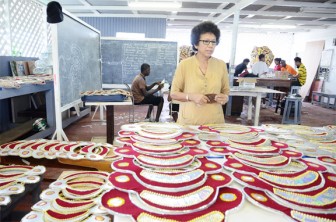 However, green has no place in the Banks Mash Camp since the fiery red 'Fireworks' form the platform for that band. The band's costumier Paul Burnette in the midst of his hectic Mash Camp said, "When you think of our independence you think of celebration of fireworks and that is what we are about", directing attention to the floats and costumes in preparation. The Banks revellers can expect to palance and gyrate to live music by three prominent artistes.
Meanwhile Maxi K Williams is this year's designer for the Carib band and says its time to mix it up with a modernized version of well known figures such as Mother Sally. Williams said that he has been in this business for more than 15 years and Carib is going to be "the best band of the year".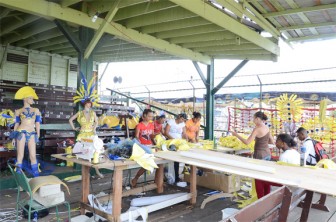 Guyana's 'bigger better network' Digicel seems to be brewing a storm in its camp but not much was available for disclosure when Stabroek News visited.
Meanwhile, news reaching this newsroom via a company official was that telephone giant GT&T will not be participating in this year's road march. However it has been involved in some aspects of donations as it relates to the festivities.
Would-be revellers are asked to contact their desired bands since costume prices range from free to relatively cheap in most bands.
Around the Web