Story and photos by Shabna Ullah
Frustrated East Bank Berbice residents decided yesterday that enough was enough and blocked a section of the road at Glasgow during heavy downpours to protest its deplorable condition and demand immediate action.
They stood their ground on the narrow road, ignoring calls by Deputy Commander of 'B' Division, Eric Bassant, to clear the area for traffic to flow smoothly. Some shouted instead, "no road, no traffic".
One woman even vented her frustration by jumping into deep potholes, splashing dirty water on persons standing nearby.
Other protesters wore 'peaceful picket' badges and carried placards, some bearing the words; "East Bank Berbice road has been neglected for too long"; "We demand an end to corruption and substandard work by the Region Six Administration now"; "Regional administration has neglected East Bank Berbice; aren't we people?"; "Listen to the plight and cries of the people, Mr President" and "After 19 years we still have this perennial issue."
The protest affected schoolchildren, University of Guyana students, teachers and other workers who were stranded and had to walk a few miles to New Amsterdam to get transportation, as even the hire car drivers refused to work.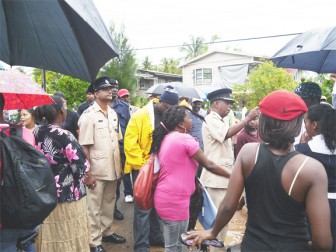 Some of the schoolchildren also joined the protest with one boy who is preparing for the CSEC saying that he had been unable to attend school since last week "because I have a bicycle and it is not easy to ride on this road."
Another student who was drenched in muddy water said he was walking to school in the rain yesterday morning and fell in a pothole and had to turn back.
At 10 am a teacher was still waiting on the road for transportation. She told this newspaper that she hoped the protestors could have some answers by midday so she could get to school for the next session.
Earlier, a headmaster who was on his way to school on his bicycle told the media that the road "needs a lot of attention. It has become overbearing and the people have a right to vent their feelings. The government really needs to look after this road."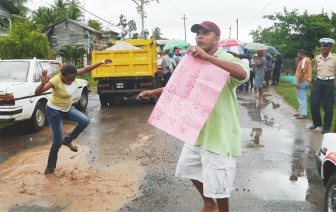 The protesters said they would not move until Regional Chairman David Armogan, or Minister of Transport and Hydraulics Robeson Benn, or President Donald Ramotar visited to provide answers about when the road would be fixed.
When Armogan and Vice-chairman Bhupaul Jhagroo arrived residents welcomed them with handshakes but insisted that they did not want "promises."
They listened attentively and in approval Armogan explained that engineers had measured the road and determined that rehabilitating it "would cost in excess of $80 million… We want to do a proper job this time around…. [It] has to be done after the budget… because unless you have money you can't do the road."
He the added that in the meantime, "Nauth [contractor] would start doing some patch work…"
But the residents erupted on hearing the word "patch," shouting in unison that they would not accept "patch work… we want a new road."
The rain made the road even more difficult to traverse and this newspaper observed that some of the potholes were even deeper than they were during a visit in December.
Drivers stressed that the road was "damaging our vehicles" and they have to spend a lot of money to fix them, while some said they are unable to use theirs.
To avoid the "stressful road" most of the hire car drivers have opted to work from Stanleytown in New Amsterdam and from Canje.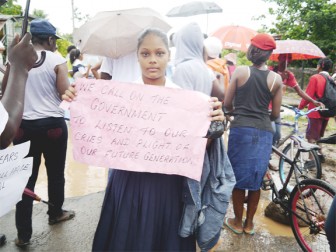 According to the residents, the road was supposed to be fixed a long time ago but a government official from Berbice had said the area did not have the population for the investment. They contended that a section of the Canje Road at New Forest has been fixed although persons are hardly living there.
"The road is here since in the 1930s and is in the same state," residents said "All we are asking for is a new road. The time has reached now for patching to stop."
They said that in 2009 they attended a meeting at the RDC with Minister Benn and Community Relations Officer, Fizal Jaffarally who told them that $206 million was released for the construction of a brand new road.
But no road materialized. They demanded that Armogan tell them where the money went.
Some parents said it was very difficult for their children to access transportation for school and that they not all of them can afford to purchase bicycles.
Around the Web