A Springlands jeweller, who left home to go for a drive with his brother is now dead while his best friend is battling for his life at the Georgetown Public Hospital (GPH), after their car crashed into a bridge and then a parked truck at Crabwood Creek on Sunday night.
Dead is Quadir Arkhan, 25, of Lot 12 Springlands, Corentyne, a jeweller of the Skeldon Market who succumbed on the spot. His close friend, Avinash 'Pie' Persaud, 18, of Springlands sustained severe injuries.
Persaud was treated at the Skeldon Hospital before being referred to the New Amsterdam Hospital and subsequently to the GPH.
Police said in a release that Arkhan was driving motor car PKK 1056 along the roadway, allegedly at a fast rate, when he lost control of the vehicle, crashed into a concrete bridge and then a parked motor lorry.
Arkhan's father, Dannif Arkhan, proprietor of Quad Trading, told this newspaper that around 7.30 pm "he [Arkhan] and his brother Tariq said they are going for a drive."
According to relatives, the car was "heading into Crabwood Creek when it flipped on a bridge, turned turtle and hit a parked truck."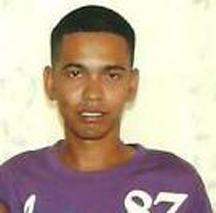 Dannif recalled that around 9 pm the family received a phone call about the accident from a neighbour who asked them to "check and see if Quadir was involved."
He then called Tariq to enquire where his brother was and he responded that he had left him at the gas station and that he was heading home. When the brother called Arkhan's phone it went to voicemail.
Dannif said that on their way to the scene of the accident, he along with family members checked the Skeldon Hospital but a nurse informed them that no one had been taken there.
When he got to the scene, Dannif said, he saw his son lying on the ground and "asked Allah for faith" so that he can take him to the hospital. When they got to the hospital the doctor expressed sympathy to him and told him he had to take his son to the mortuary.
According to the heartbroken father, the last conversation with him was based on permission to go out and drive with his brother.
Arkhan's wife was still felt in shock after hearing of the death of her husband.
He was described by his father as very friendly and jovial person who always had a smile on his face and would always go over to his neighbours and chat.
Quadir leaves to mourn his wife and two children – Arianna, five and eight-month-old Arieesa; his father, mother; Oma Devi Ramathan-Arkhan, brother Tariq Arkhan and a sister.
Around the Web