City schools won the most awards at the Children's Costume Parade on Saturday last.
Results released yesterday by the Ministry of Education revealed that in the Nursery Band category Happy Hearts Nursery took first place with 'Tribal Connection' followed by Precious Jewels in second with 'Regal Rollickers', Head Start with 'Celebrating our Cultural Pride Through Music' in third and Carol's Nursery in fourth position with 'Royalty'.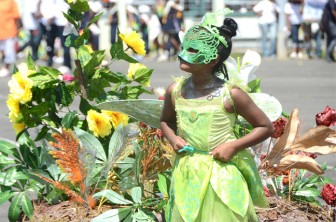 In the primary category, North George-town's 'Features of Bam Bam Sally copped the first prize. Ketley was second with 'Together in Guyana to keep our Traditions Alive'. Winfer Gardens came in third with 'A Royal Infusion' and St Stephen's with its social issue piece 'Vat on the Attack' had to settle for fourth place.
Diamond Secondary's piece 'Golden Queen of Eldorado' placed first in the secondary band category followed by Ascension's 'This Train is Bound for Glory' in second place. St John's College was third with 'Beauty of Eldorado' and Kingston copped fourth position with 'Reviving our Culture through Music'.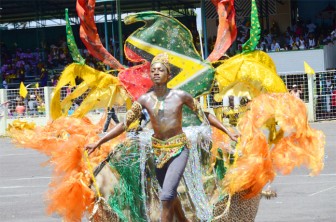 In the individual category, Jamel Broomes top the top prize for 'A Legend of Flare'. The other winners were all schools: Chateau Margot Primary with 'Golden Flower Princess' second; Kawall Primary with 'Miss Allied Arts' third and Lusignan Primary with 'Queen of Fairies' fourth.
The Hinterland Scholarship Division walked away with first place for its 'Working and Celebrating as we Celebrate our Motto' in the other children's organizations category. The National School of Dance was second with 'The Masqueraders', followed by Western Youth Organization's band 'Education -Water flowing in the Mind with an Angelic Touch'. In fourth position was the Ministry of Education's HIV Prevention Project with its wordy 'Getting to Zero, Zero AIDS-related deaths, Zero Discrimination, Zero new HIV Infections'.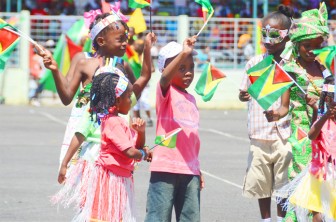 Finally, in the regional category, top honours went to Region 3 for its 'Keys to Success – Raising our Education Standard'. Following strongly in second position was Region10's 'Revellers in Fusion'. Region 4's 'Maintaining our Traditions with Pride and Unity in 2012' and Region 8's 'Give Birth' were third and fourth respectively.
Around the Web