GuySuCo and government yesterday moved to get striking sugar workers back on the job as current production remains crucial to prop up the corporation's shaky finances.
GuySuCo, which yesterday pegged its short-term debt at $8 billion, said that it would pay the Annual Production Incentive (API) owed to Rose Hall workers on March 16, while Agriculture Minister Dr Leslie Ramsammy announced that a Labour Ministry team has been set up to investigate complaints by workers at the Blairmont Estate.
Rose Hall Estate workers returned to the cane fields yesterday, although they had reservations. Meanwhile, workers at Blairmont Estate, who have been on strike for almost two weeks, were urged by union representatives to return to work today and give Labour Ministry team an opportunity to investigate complaints against the Estate Manager and the Agriculture Manager.
Hundreds of Rose Hall Estate workers began their protest last Saturday over continued delays in payment of the API. The workers had vowed to continue their strike action until all outstanding sums are paid.
In a statement, GuySuCo blamed the late start of the first crop and its inability to obtain working capital from a foreign bank for the delay in payment of the API as well as late payments to creditors. It disclosed that its short-term debt currently totals $8 billion, comprising $4 billion owed to local banks, $3.2 billion owed to creditors and $700 million in advances from customers. "This is a significant amount owing and the corporation is finding it very difficult to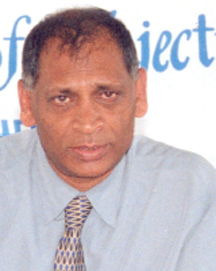 source additional short term financing to meet its working capital requirements," it added, before pointing out that its financial position is "very much dependent" on production and sales. "This has not been possible so far due to sugar production being way below the estimate for the crop to date," it said. GuySuCo also urged workers to bear with it during the difficult financial period it is experiencing and assured that it is putting measures in place to ensure that the API is paid next month.
Rose Hall workers assigned to Providence returned to the cane fields yesterday after being told that the API would be on March 16. The harvesters said management asked that they return to work in an effort to ensure GuySuCo can meet two orders for export to Europe. Although the workers said they had reservations about the assurances given by the corporation, they noted that they had no other option but to return to work since they need the money.
Ramsammy, meanwhile, urged Blairmont workers to return to work, while announcing that a team set up by the Labour Ministry was established to look into the charges made against the Estate Manager and the Agriculture Manager.
"I have been advised by the Minister of Labour that the team has been established today and will commence its duties immediately. I therefore urge the workers to return to work. It is important that whatever action we take follow due process," he said in a statement released yesterday.
He noted that he had met with workers' representatives last Friday and had indicated his willingness to intervene to ensure a favourable outcome to all sides. He added that the Labour Ministry team will be responsible for making recommendations so that a fair and effective resolution is reached.
"The workers have contributed much to the sugar industry and their concerns must be addressed," he said, while noting that he had spoken with the management of GuySuCo and consulted with the Minister of Labour and the workers' union.
Blairmont workers last week called for the removal of estate manager Corlette Victorine and field manager Anil Seepersaud, while protesting new measures that they said were slashing their wages. They said that since Victorine took over late last year, they have been denied rights. The workers had also vented their concerns to AFC members who turned up during a symbolic march last Thursday.
Ramsammy yesterday accused politicians of attempting to gain influence from the situation and urged that they recognize that any action taken must follow due process. He also assured workers that payment of the API will be made on March 16, while saying he would continue to work with GuySuCo to implement proposals from the Job Evaluation Exercise. "…I remain hopeful that the production of sugar will lead to improvement of the financial situation and that GuySuCo will be able to make effective payment as soon as possible," he added.
Around the Web