Carib Soca Monarch Jumo Primo yesterday received his prize of $1.5 million and a bonus of $100,000 for prevailing as the 'Best Newcomer' in the competition which was staged on Saturday evening.
Copping second prize was newcomer in the local music industry, George Anthony Abrahams who was unable to be present at yesterday's press conference at Ansa Mc Al's Beterverwagting office. The schoolboy is expected to receive $500,000 and the 'Rising Star Prize' of $50,000.
Also receiving his prize was third place finisher, Adrian Dutchin, who collected $250,000. It was stated that each finalist received a performance fee both in the semi-finals and the finals.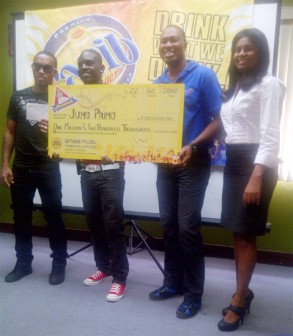 Ansa Mc Al's Public Relations Officer, Darshanie Yussuf, said the Carib Soca Monarch competition was an exceptional event this year with the best response they have ever received from the public. "We weren't here last year but we definitely made up for it this year," she stated.
Carib Brand Coordinator, Nigel Worrel, said they have been executing this competition for eight years and promised that the public can look forward to this event in 2013.
"This year's event can be considered as the best we ever had… with the most entries and the great response we got," he said.
Worrel said the company intends to get artistes and producers involved in two planned workshops with persons who will be brought from Trinidad and Tobago. "It is very big that we not only make a contribution to the music industry but to make a contribution to the artiste and producer as well," he stated.
Also, plans were in place to introduce a texting system through which persons could vote for their favourite participant but this, unfortunately, was not done. However, this is expected to be initiated as of next year so the public can be more involved in the judging aspect of the competition.
Around the Web