The autopsy performed on Ganesh Dharie, the man who was fatally struck down on Monday night by an ambulance on the Meten-Meer-Zorg road, revealed that he died of multiple injuries, which included broken ribs, a punctured lung and a fractured skull.
The post-mortem examination report was read to this newspaper by the man's mother, Nadia, yesterday even as she stated that she was making arrangements for his burial on Saturday.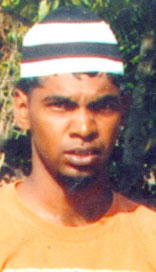 Dharie, 26, of Uitvlugt Sideline Dam, West Coast Demerara, was hit by the ambulance transporting Bartica motorcycle accident victim Conan Belle to the Georgetown Public Hospital, amidst the heavy rains on Monday night. It was the heavy rainfall, coupled with the darkness of the road, his friend who was with him said, that possibly impaired both his and Dharie's vision causing them to think that the ambulance was a minibus.
Dharie then anxiously stretched out his hand waving as an indicator for the 'bus' to stop but instead the vehicle slammed into him, causing his almost instant death.
The dead man's mother, who is a confectionary vendor at the Uitvlugt Secondary School, told Stabroek News that as she mourns her firstborn she is upset that no one has yet explained, visited, or tried to contact her on the circumstances of her son's death, given that it was a state vehicle that killed him.
She also said that she had to be "running here there and everywhere" to find out when and where her son would be autopsied.
"I am in mourning but I have accepted death because I am a Muslim so I know it was his time.
But I am damn annoyed that to this day no one said anything to me about my son's death… it was a government ambulance that hit him. They treat him as if he had no owner from the time he got knock down till now," she said. Through a sometimes cracked voice, as she tried to hold back tears, Nadia informed that her son, the eldest of her seven children, took on the role as breadwinner of the home since his father's death a few years ago.
He was once a minibus conductor but last year changed occupation to that of a mason to earn more. She said that as she grapples with the reality that he will no longer be around to continue to contribute to the home she is comforted, by her faith that they will all be okay.
The woman stated too that on hearing that it was a young man, like her son, who was driving the ambulance, she felt compassionate and thus went to visit him at the Leonora Police Station, where he was in custody.
The driver has since been released on station bail pending investigations.
She said she is not angry with the driver since anger cannot bring her son to life, but she just wants the relevant authorities to answer why she was treated in a slipshod manner at the GPH on the night of the accident and why to date no one has said anything on his death.
Around the Web