A 57-year-old mother of eight died after she was attacked by African bees while picking mangoes at the Cane Grove Backdam, East Coast Demerara (ECD) yesterday around 12:30 hrs.
Dead is Munia Sanchara, known as 'Lovlin', of Cane Grove, Coconut Dam. She was pronounced dead on arrival at the Georgetown Public Hospital (GPH) around 17:00 hrs.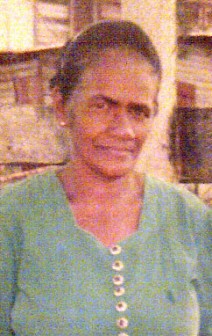 According to her brother-in-law, Arjune Sanchara, the woman left home with her granddaughter to pick fruits, which was nothing out of the ordinary. However, shortly after, he related, the child returned, with traces of bee bites on her arms, and indicated that her grandmother was being attacked by bees.
"De child get away and come home and say bee bite up she grandmother," he said.
The man told Stabroek News that several family members rushed to the scene but were unable to rescue the woman as the bees had completely covered her body. "We run go but de bee been so plenty we couldn't get she… She whole face all de cover," he said.
He said the dead woman's son, Vicky Sanchara, then opted to use gasoline to get the bees off his mother. "We get the gas and throw pon she and then we pull she through the trench fuh get she pon de other dam, but she de done dead. Dem bee been pon she a whole hour," he said.
The body was reportedly handed over to the police who then transported it to the GPH. The corpse was subsequently taken to the Lyken's Funeral Home where it is awaiting a post-mortem examination. (Frances Abraham)
Around the Web