Sexual reproductive health has been chosen as the topic from which all the moots for this year's Ministry of Health Schools' Debate Competition would be formed, with the rising number of sexually active youths being one of the main reasons.
This was stated by Ministry of Health Wellness Officer Dr Marcia Paltoo as she delivered a presentation on the importance of sexual reproductive health, at the launching of the competition yesterday at the Ministry of Health, at Brickdam. The activity, for secondary schools, is being held by the Ministry of Health, in collaboration with Digicel.
"Few young people receive adequate preparation for their sexual life," Dr Paltoo said. "The result: unintended pregnancy, sexually transmitted diseases, including HIV, among others, and many go into adulthood with conflicting and confusing messages about sexuality and gender… exacerbated by silence and disapproval of open discussion of sexual matters by parents and teachers,"  she added.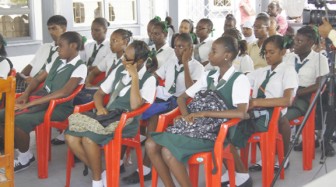 Dr Paltoo said that with the advent of the internet and other modern communication gadgets, children are exposed at an early age to explicit sexual material influencing the increase in cyber sex and the number of students having sex.
Giving Guyana's statistics on sexual activity among school aged children, Dr Paltoo said several surveys carried out across Guyana found that 29.3% of school-aged children indicated that they had sexual intercourse. Of that number, a staggering 71% admitted to having sex before the age of 14. The age of consent in Guyana is 16 years. A further 62.7% said they did not use condoms the last time they had sexual intercourse.
Noted too was the increase in the number of HIV cases in the under-19 age group which quadrupled from 18 in 2001 to 80 in 2007. Region 4 leads the cases of reported STD infections, with over 71.5% of the country's total. Of the 456 cases reported, the 15 to 19 age group represented 20% of the total.
Minister of Health Dr Bheri Ramsaran, in his address, thanked Digicel for its financial support and he charged the students to do a lot of research and study hard before they participate in the debates.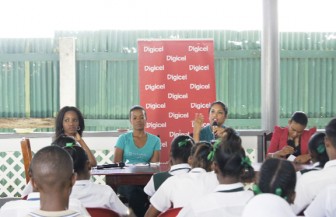 Promotions Manager for Digicel Tandika Johnson informed that her company, the title sponsor of the competition, partnered with the Ministry of Health and Ministry of Education so as to aid in the development of Guyana's youth as they prepare for adulthood. She too urged the participants to learn as much about sexual reproductive health for their own and their peers' benefits as they are involved in the debates.
Students from the selected debating schools were present at yesterday's launch and many agreed with the choice of topic. One student, when asked by Stabroek News what she thought of the topic, responded, "I am glad that schools now are openly dealing with matters of children having sex because it don't matter how much adults try to hide it, everyone having sex." Another 16-year-old when asked if there was any family member she could openly talk with about sex, said, "I dare not ask anyone about sex in my house, they would kill me with blows for wanting to know. My mother and grandmother living back in times they think I should wait until I am married but they ain't know what happening in our school."
Sixteen schools, selected by the Ministry of Education, from regions 1, 4, 5 and 7 will participate in the competition, which is geared to bring awareness to students of the importance of making informed choices on sex, sexuality and relationships. The debates target forms 3 and 4 students and will be held in the selected regions over a two-month duration. No school from Georgetown will be participating in the competition.
Around the Web