More than two years after Llewelyn Fitzgerald Campbell was found on the Kingston seawall with his throat slashed and head bashed in, police are yet to find the person(s) he was going to meet there; a vital piece of the puzzle that could crack the case wide open.
The only information this newspaper has been able to garner so far is that the case is still on the radar of police investigators who are not picking up any clues as who committed the act or their motive.
A police source told this newspaper that investigators did a lot of groundwork but came up empty-handed. The source said persons living in the area were approached but said they neither heard nor saw anything strange prior to the discovery of the body.
It was noted that crimes such as this would be hard to solve because of where they are committed. The source explained that the sea wall is lonely and very dark at night, but people especially lovers still venture there. It was pointed out that even if Campbell was screaming for dear life it would have been very hard for anyone to hear him because of the heavy breeze and the sound of the waves.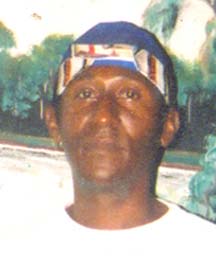 The source said that unlike other sections of the city, the police cannot conduct nightly patrols there easily because of limited access. The source insisted that investigators did do a lot of work to find clues.
The only way there could be a breakthrough in the case, the source said, is if police receive a tip from the public.
Speaking to Stabroek News recently, his cousin Kim Powdar said that even though so much time has passed, she is still pleading for justice, "cause it is a life and he didn't deserve to die like that." She said that to this day she is still baffled as to who committed the act and why.
She explained that Campbell did not have any money or jewellery, a clear indication that she was ruling out robbery. "Up to know I still do not know the reason and I want to know," the woman said.
Powdar told this newspaper that from all indications "it [the case] just wash out." She said that she has heard no new information from the police.
The last word she got was that the matter was being investigated.
She stated that unfortunately there are many cases like Campbell's which remain unsolved.
"A long time has passed and nothing. I does find out occasionally but I ain't getting nowhere," she said.
Just recently, she said memories of Campbell came back to her and it was an emotional time since they were very close. She said her birthday was just days before he was killed and Campbell had visited her house and cooked for her. She said when her birthday came around this year, she remembered that and the many other happy moments that they had shared.
The woman commented that her cousin died a very brutal death, recalling that it was she who had to identify his remains at the Lyken's Funeral home after other relatives got cold feet.
She said her husband was reading the newspaper and said, "Look Elton in the newspaper." She was not prepared to hear that he had been murdered. About an hour later a close friend visited her and said the same thing.
Campbell was unidentified for a day but it was the ring on his hand in the picture that instantly confirmed that it was him.
Close friends
To this day no one knows which friends Campbell had gone to visit on or in the vicinity of the Kingston seawall where he had been found.
One of the man's close friends had told this newspaper that he left Bourda Market the night before he was found saying that he was going to visit friends "on the seawall." The friend could not say who the friends were or where exactly they lived.
The police had received this same information but since there were no clues as to the identity of these persons, they were never found.
Powdar told this newspaper in the recent interview, "I am convinced that somebody did see something."
Like many of the man's relatives, she seems to have given up all hope that the perpetrator/s will be caught. She said nobody is really pushing for the case to go forward and it is because of frustration that she too is trying to put the matter behind her.
She said many of her relatives are afraid to take an interest because "is police story." Nonetheless she hopes that one day they will get justice.
It was a passer-by who found Campbell slumped against a coconut tree on the Kingston seashore behind the Guyana Forestry Commission around 8 am on January 18, 2010.
He was "crimped up" on his side and there was a metal object resembling a knife (but smaller) sticking out from a hole in his neck.
Besides the wound to the neck and the back of the head, there were numerous cuts on his hands, an indication that he fought for his life.
Relatives are hoping that another year would not pass without some development in the case.
As they keep their fingers crossed, they would certainly like the police to pay closer attention to the case and bring the culprit(s) to justice.
Around the Web