An excavator was deployed recently to the Seven Miles, Mahdia area where works commenced immediately to clear the existing drain and excavate additional areas to allow for  more rapid drainage with a significantly larger amount of water being discharged into the Mahdia Creek.
Several residents of Seven Miles, Mahdia had highlighted the problem of the flooding of their homes and businesses in a meeting with Regional Executive Officer Ronald Harsawack, a press release from the office of the Regional Executive Officer said.
Residents had lamented that with every downpour the water would rise and accumulate within their residences.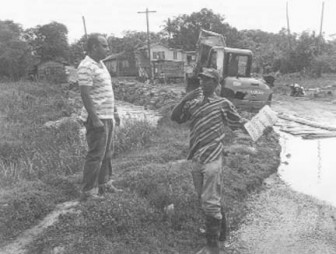 The administration in response deployed the Senior Superintendent of Works of the Public Works Department to do an assessment and it was noted that because of heavy siltation, rapid aquatic growth, improper disposal of garbage and an increase in the volumne of water from higher gradients the issue of water accumulation persisted, the release said.
However, the recent work with the excavator is expected to bring significant relief to the residents who had been affected.
Around the Web