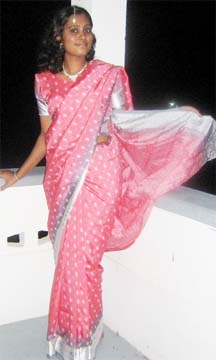 The parents of a trainee teacher who was brutally stabbed to death in 2010 are convinced that there are deliberate attempts to cover up the case as evidence of the person involved has been shoved aside and ignored.
Two years after their lives were shattered, Linda and Richard Narine say that their own investigations have revealed the true identity of the perpetrator but the police never made any attempt to find him because of his connections to "big ones."
Luciana Bhagwandin was their only daughter who was staying at a Cummings Lodge, East Coast Demerara address from where she attended the Cyril Potter College of Education. On the afternoon of January the then 22-year-old woman left home to visit a supermarket in the area when she was reportedly pulled into a car by someone. A report was promptly made to the Turkeyen Police Outpost.  Her body with multiple stab wounds in the back was later discovered on a dam at Harlem, West Coast Demerara.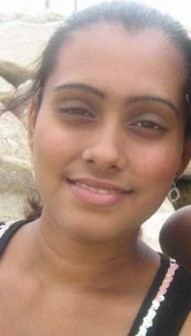 "Unless the police work seriously nothing can't happen. We just getting push around all the time," an emotional Richard said adding that he is so frustrated that he had decided to take a step back.
The man noted that the police have given him too much conflicting information for him not to believe that something is amiss. He last checked with ranks at the Leonora Police Station some time mid last year but did not receive any positive word.
"Look two years done finish and if the police can's act right nothing can't happen," he told this newspaper from his home at Pomona, Essequibo Coast. Bhagwandin was originally from Pomona where she lived with her husband.
Richard stressed that he now has no confidence in the police explaining that he had unearthed a lot of things, all of which he could not relate to ranks because of the people involved.
He said that after not getting much help from the police he decided to launch his own investigation. It was related to this newspaper that some time before death, the young woman told relatives about the man who it is now believed killed her. This newspaper was told that the man told many lies to the young woman including that he was 35 when he was actually 41.
Linda said that her daughter became afraid of the man but did not give them all the details of what exactly was happening between them. The woman said that all her daughter really told them was that he had said he was a secret security agent for the government.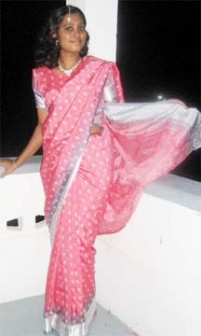 Linda told this newspaper that they later discovered that the man was a close friend of a senior government official (name given). Richard also told this newspaper that his daughter had confided in him.
He said that her daughter and the man were friendly for about two months. She related to him that the man would take her to a building in Eccles. However Richard did not say for what purpose.
The man said that later he received information that after snatching his daughter, the taxi they were in picked up a man at another address in Eccles. He said that he passed this information to the police and when the man was arrested, it was discovered that he was a driver attached to one of the government ministries. The man said that because of where the man worked, nothing came out of his arrest.
The couple said that their own investigations revealed a different name for the boyfriend. The police in a wanted bulletin had given the boyfriend's name as Jerry Jhagroo. This newspaper was told this person was never found.
The couple explained that at one point the investigating rank told them that they found some "flesh" under the woman's finger nails and that it would be sent to a lab. On checking with him later, he said that the government did not have money to send it for testing. On a third visit, the rank said he could not recall if anything was found under the woman's finger nail.
They said that they had visited the Home Affairs Minister but instead of leaving satisfied, they left his office in tears.
"This thing is a whole long complicated story," Linda said.
Released too soon
Bhagwandin's parents later expressed the view that a taxi driver who was detained was released too soon and had the police investigated their story he probably would have been charged.
They explained that the man turned up at a police station with scratches on his neck claiming that his car was stolen. They said that based on what they were told, the man reportedly told investigators that he witnessed the murder and ran away.
The couple said that the man spent two days in the lockups.
"This is where they flapped the case. They didn't even take him back to the scene,"  Richard told this newspaper. He once again stressed that if the police work diligently on the clues they have, "the whole world will be shocked to know who it is."
He said that there is too much  evidence pointing to the man that his daughter told him about adding that some day the truth will be revealed, but only if the police work properly. He said that he is 99% certain that that man (the one his daughter told him about) committed the brutal crime.
"Is only good work can ensure he is picked up and placed before the court," he said.
Justice needed
Justice is the only thing at this moment that is on their minds. They say that their daughter's murder is fresh on their minds especially when they pass Harlem on their way to Georgetown to look after business.
"Me and me wife will never give up because is 19 stabs she get," Richard said adding that now he has no daughter.  He said that his wife still cries a lot.
Meanwhile, breaking down into tears, Linda said that besides what they have unearthed, police are in possession of her daughter's phone and SIM card which would have information which could lead to the suspect.
She said that the suspect had used the phone to implicate her daughter in a relationship with him. The man she explained had gone to the woman's husband and sold the phone to him for $30, 000. The man then contacted Bhagwandin and instructed her to call him and when she did, it was the husband who answered.
Linda explained that this caused a falling out between her daughter and her husband and they separated.
She said too there should be records of when the man repeatedly called her house phone and cell phone asking for the young woman.
"Nobody ain't doing nothing. The whole system just slack," the distressed woman told this newspaper adding that she doesn't know who else to turn to.
She said she had not wanted her daughter to relocate to Georgetown because she was young and very attractive. She said that her daughter always wanted to be a teacher.
"I want justice. We need justice. I don't know if anybody in Guyana can give satisfaction. Everybody dragging them foot," she stressed.
Around the Web