A  24-year-old man early yesterday morning cheated death, receiving only minor injuries, after  the car he was driving slammed into a utility pole, turned turtle and then crashed  into the fence and balustrading of a Covent Garden house. Many consumers on the East Bank were without power as a consequence of the accident.
An eyewitness told Stabroek News that the car, a Toyota Allion, PNN 6186, driven by Orlando Spencer was proceeding rapidly north along the East Bank Demerara Public Road when the driver seemed to lose control, subsequently crashing head on into the pole and causing it to break. The vehicle then turned turtle in midair as it careened first into the balcony of Deomattie Jadunath's house, damaging it, and subsequently falling on her fence. The car was completely wrecked.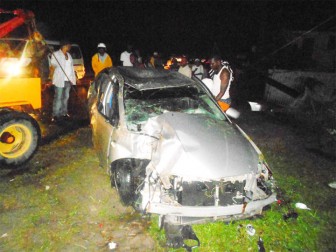 Owner of the lot 523 Covent Garden residence Deomattie Jadunauth told Stabroek News that she was in bed when she felt a loud  thud which caused her bed to shake after which the power went out. She said she got out of bed as she heard her dogs barking continuously and saw the two occupants of the car exiting the overturned vehicle.
Jadunath said that both driver and passenger appeared in shock as they left the vehicle and kept looking around. By this time passers-by and neighbours had gathered. The passenger of the vehicle made his own way to a city hospital while Spencer was taken later to the Georgetown Public Hospital by the police, who quickly arrived on the scene. He was treated for minor lacerations and bruises by doctors there.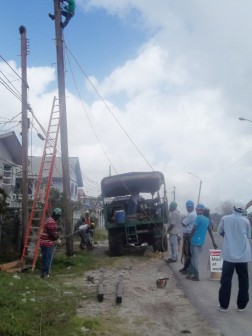 Power from Little Diamond to Farm was cut as a result of the accident but by midday Guyana Power and Light workers had changed the utility pole and were rewiring it. Power had been restored to the areas when this newspaper checked yesterday afternoon.
Around the Web