Almost four years after it was first put on sale, the Casique Hotel and Banquet Hall at Providence, East Bank Demerara is still to find a buyer.
In 2009, the Bharrat Jagdeo administration had announced that it would finance the completion of the hotel after the investors were faced with financial difficulties. It is not clear how much the state has invested in the completion of this hotel and questions are likely to be raised given that government has committed to provide at least US$4M in equity funding for another hotel, the controversial Marriott Hotel which will be built in Kingston. Up to last month, government was still seeking one or more participants who would collectively own 67% of the Marriott project's equity.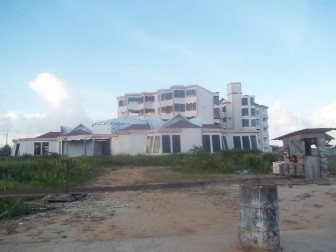 Controversy has plagued the Casique Hotel ever since the government advanced the investors a sum of $33.7 million to assist in the completion of the facilities in time for the 2007 Cricket World Cup. This sum was meant as an advance payment for rooms that would have been occupied by officials during the tournament. The hotel was not completed in time for the World Cup and remained in an incomplete state for two years, since the investors were faced with financial difficulties.
In October 2009, Cabinet Secretary Dr Roger Luncheon announced that the administration would be financing the completion of the hotel following the signing of an agreement with the investors Casique International Hotel Inc.
After first being put up for sale in June 2008, the hotel was re-advertised for sale in March last year and yesterday, another ad in the Sunday Chronicle advised that the "Modern Five Storey Hotel and Entertainment Complex" is up for sale.
According to the advertisement, the property features a modern five-storey hotel and entertainment complex with land measuring approximately 226,512 square feet. The main building features very modern aesthetics with over 100,000 square feet of floor space comprising three blocks.
The advertisement said that  Block A comprises basement and five above service floors which comprise 48 suites and apartments, restaurant and kitchen and which are serviced by an elevator.
Block B comprises the rotunda rising to the same height as Block A, and which is also serviced by the elevator and designed to accommodate offices and shops on upper floors, Internet facilities on upper floors and a restaurant, bar and musical entertainment on the ground floor.
Block C is made up of two banquet and conference halls, a pool (not constructed), poolside bar and the main entrance, reception and lobby area.
Interested parties are invited to submit tenders no later than March 10, 2012 to the Manager of the Guyana Co-operative Financial Services, PO Box 10400, Guyana Post Office, Georgetown.
Around the Web