This is the ninth in our series on new parliamentarians
It was businessman Ronald Bulkan's recognition that it is through political leaders that meaningful change can take place in society that triggered his shift to the world of politics, and he feels that as a new parliamentarian working for A Partnership for National Unity (APNU) he can play a part in the progress of Guyana.
Admitting that he is new to the world of politics – he was a candidate for the WPA in the 1997 elections – Bulkan is of the firm view that he can play a part in the country's development and while his family has felt the "spite" of the PPP/C, he said that was not the reason for him joining the PNC four years ago.
The words of former British Prime Minister David Lloyd George who almost a hundred years ago said, "Many men try to get their ideas through without associating themselves with party but party governance is a central part of the governance of this country," played a part in this move.
He belatedly recognized President Desmond Hoyte's contributions towards fashioning national cohesion and creating a Guyanese society, and he is also a staunch believer in PNCR leader Robert Corbin. He said Corbin has been wrongfully accused of having a "private deal' with President Jagdeo's regime because he offered no resistance to the wrongs perpetrated by the past government.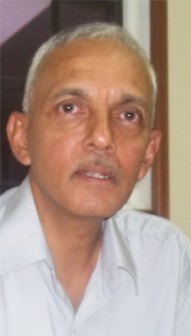 Bulkan suggested that Corbin allowed that government to self destruct, which ultimately resulted in President Donald Ramotar now leading a minority government. He said had Corbin taken a militant stance this would have backfired for the party at elections time, as Indians would have  recalled the years of "unrepresented rule that we had in the 1970s and 1980s," and even though they would have been upset with the PPP/C they would have used that as an excuse to vote against the PNC.
"So my own belief is that Mr Corbin saw that the only way this cycle could be broken is not to allow strident and militant positions, and in a sense [this] led the PPP to self destruct and to Mr Jagdeo engaging in a lot of the excesses that were the hallmark and characteristics of particularly his last term…"
Hoyte and Corbin, therefore, he said influenced his decision to join the PNC and return to the world of politics.
And he is hopeful for Guyana with the recent involvement of young people in parliament, making mention of the recent efforts of the Youth Coalition for Transformation (YTC) – the youth arm of the APNU.
In an interview with the Sunday Stabroek Bulkan – who is part owner of Precision Woodworking Ltd along with two of his brothers – recalled that the once thriving business has now ceased manufacturing since last year "because of circumstances." And while he said that it is not an issue he wanted to elaborate on in the interview, it is something that would be re-visited because of its "importance in the national scheme of things."
He said today there are almost as many Guyanese living outside Guyana as within it, and many are considered to be assets in the countries they now call home. This, he said, reminds us that one of the pernicious things about migration is the fact that the "first to leave are actually the most ambitious, oftentimes the most educated, industrious, hard working," and are the very people that any society needs to develop itself.
This phenomenon, Bulkan said, is triggered by the failure of the country's post-colonial leaders to create the conditions that would allow for the best human talent to remain and contribute to Guyana's development.
Bulkan said he had the opportunity to migrate but realized the inescapable fact that the nature of a society is largely determined by its political leaders, and it is there the opportunity for meaningful change presents itself.
He said when in 1983 they opened the woodworking business the urge to migrate was even greater, but they stuck it out and opened the business which produced beautifully finished furniture for export without any subsidy from the government. The company was awarded the Caribbean entrepreneur award in 2001, and the following year Bulkan was inducted into the World Entrepreneur of the year academy in Monaco.
"I am happy and proud to say that not only did we deliver on our original expectation to prove that value-added processing in the timber industry was possible, but to also say that our subsequent achievement and recognition were enormous, and by Caribbean standards fairly remarkable," Bulkan said.
Because politics in Guyana is seen as a very "hazardous profession" Bulkan said it has prevented many citizens who have the ability from contributing, in addition to the fact that "because [it is] a smaller society the power of the state to victimize persons who are seen to be opposed to them is even greater."
He said the "coercive powers of the state" is very real and has been seen "particularly in the last five years where the state has made no bones about practising a mindset that basically says criticize us, and we will destroy your very livelihood."
At this point Bulkan rebutted his PPP/C colleague in parliament, Cornell Damon, who in an interview with the Sunday Stabroek published last week said that the PPP/C government is not one that will "spite" anyone. According to Bulkan the examples of the "spite" of the PPP/C are so numerous that such statements cannot withstand any scrutiny.
Victimization results in the prevention of persons contributing to national life and "the real victim is the development of society as it leads to a lack of development and a lack of progress." This he said contributes to social decline and the decay of all sectors, and contributes also to migration. It is important, Bulkan said, for some persons to lose the fear of being involved in political activities, despite the "very real" situation of the "nastiness…and victimization of the state to actually destroy people who they seem to consider to be critical of them."
Bulkan,  however, said that he was happy to read that Damon's membership of the PPP/C pre-dated his advent to government as he feels persons should be attracted to political parties on the basis of their policies and programmes and not on extraneous and irrelevant considerations such as race.
He said unfortunately race has been the "principal determining factor" that has influenced the majority of the country's citizens' political loyalties and affiliation. He said it is important to have crossover votes from one party to another, but not the crossover of leaving one party when they are in opposition to join the party in government.
"I don't mean that type of crossover I think the word for that is opportunism," he commented.
Local government
Meanwhile, Bulkan said his parliamentary responsibility is local government and he admitted that being a novice in politics there is much he would have to acquaint himself with in relation to the issue.
However, he said if as it professes, the PPP/C believes in democracy then meaningful local government is central to democracy since it offers a direct link between citizens and elected officials. The last time the country held local government elections was in 1994, and Bulkan said one of the reasons for the delay has been the need for local government reform which would allow for a deepening of the practice of local government.
He said that contrary to what the term 'local' government signifies, too much authority still resides with central government. The current local government legislation, he said, is deficient and needs to be addressed as a matter of priority if the country is to evolve. He mentioned the recent unilateral decision by Local Government Minister Ganga Persaud to transfer 19 overseers in Region 4 which he described as a "high handed" act and a "confrontational approach."
Local government is a priority of the APNU and he would be looking at it as a matter of urgency, even though there has been broad consensus on the major areas by the political parties, although they have never reached the final step where the new legislation came into effect.
Bulkan has also been assigned Region Eight to conduct political work in collaboration with parliamentarian Desmond Trotman.
Bulkan has been married to Sattie Bulkan for the last 24 years and he gave credit to his wife for bringing stability to his life. Their union has produced two children, George and Nadia, and his son was a candidate for the APNU at the last elections. And Bulkan dislikes the predilection of many Guyanese for "jumping queues" which is practised by motorists who refuse to stay in their designated lanes, and in public buildings were persons ignore the rule in order to get ahead.
"It is a mindset that I wish less Guyanese have; it is too prevalent and it is something I must confess that is an annoyance… These little acts lead to other things and lead to a breakdown in a larger sense," he said.
He is allergic to dust and some fragrances which trigger asthmatic attacks, and today regrets his addiction to horse-racing in his youth during the period when he should have been focused on his education.
"It is something that in admitting I would want to discourage any young person from similarly pursuing"; the only activity they should pursue, he said, is education, "because education is the single most important determining factor in personal development and in social mobility."
Around the Web