Alliance Francaise of Guyana yesterday received a donation of equipment (a LCD projector and a Toshiba laptop) from Monsieur Joel Godeau, the French Ambassador accredited to Guyana, resident in Suriname.
The presentation was held at 5:30 pm at Duke Lodge, in Kingston.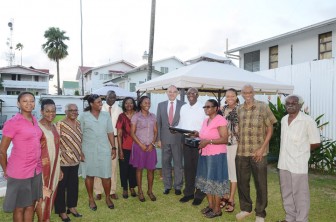 In his remarks, the Ambassador noted that the Alliance Francaise of Guyana had been in existence since the 1950s and he was pleased to see that in spite of all the ups and downs, it has continued to exist and thrive.
He observed that Alliance Francaise is an international organisation, and one of its goals is to spread the knowledge of the French language and culture.
As a result, it had sponsored the attendance of Derek Archer – the President of the Guyana branch – at the regional meeting of Alliance branches which was held in Rio de Janeiro, Brazil, last November. It also installed a satellite connection at the University of Guyana so that students and staff could have the opportunity to view French television and listen to French radio stations.
This facility is to benefit all persons in the Alliance as well as students learning French in the school system.
Yesterday's presentation was designed to enhance the cultural and educational programme of Alliance Francaise of Guyana.
Archer thanked the Ambassador for his ongoing support of the Alliance, and promised to continue making efforts to ensure that the diffusion of Francophone culture and the French language is released in Guyana.
Around the Web