A 17-year-old boy was last evening stabbed to death while standing in front of the North Ruimveldt place where he took lessons.
Anfernee Bowman, of Lot 77 Robb Street, Bourda, suffered three stab wounds around 6.30 pm: one to his heart, his stomach and the third to his side. He was pronounced dead at the Georgetown Public Hospital.
Reports are that Bowman, a Chase Academy student, had just finished his lessons in the vicinity of Festival City Exit, when he had an altercation with another student.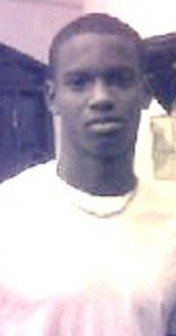 According to the dead teen's father, Gary Bowman, his son had just come out of classes when he was approached by the murderer.
"The only thing we hearing is that he went to lessons this afternoon and when he come out, some guy [name provided] stab he up and that was it. When they rush he to the hospital he was already dead," the father said in a tearful state.
Bowman noted that his son's friends indicated to him that they saw what had transpired.
"All of his friends say they saw the guy stab him and they put him in a taxi and rush him to the hospital. When I lift meh son outta the car, he de done dead… They slash he mouth, he get a stab in he heart, one in the middle of he belly and one to the side," the man said.
He further stated that police are currently seeking the individual implicated in the stabbing.
Bowman further told Stabroek News that Anfernee had attended Trust College with the accused at one point but noted that he subsequently transferred his son to Chase Academy. They only met at lessons, which his son had been attending for the past 6-7 months, he said.
"People saying the guy always envy him because my son he dresses; he's one of them. He plays for Malteenoes Sports Club, he plays basketball, you know the youngsters… he dress nice, he wears the stuff… he has a girlfriend," Bowman said.
At the GPH, a large crowd comprising relatives and children still dressed in their school uniforms gathered and expressed their disbelief at the news of the teen's death. The child's mother was inconsolable. Other relatives remarked amongst themselves what a disciplined child Anfernee was and encouraged family members to trust in God.
Around the Web