Residents of Goed Fortuin, on the West Bank of Demerara, are alleging that old 'old sewerage pipes' are being used by a contractor to construct a well in the community.
The well is being constructed under a Basic Needs Trust Fund (BNTF) programme and was given the green light by the organisation's parent body Caribbean Development Bank (CDB) during 2010.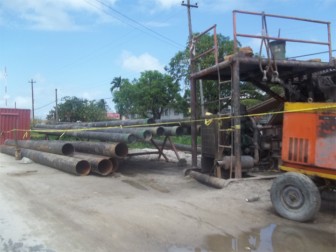 This newspaper visited the area last week and residents of the community said that works at the site at Fred Street (also known as the Red Road), Goed Fortuin started last month when they observed pipes and machinery being mobilized in the area. They said that persons at the site indicated that the works were put on hold during the earlier part of last week, since residents complained to the regional authorities about the use of 'sub-standard materials.'
This newspaper made several attempts to obtain a comment from the regional administration of Region Three last week but the relevant persons were not available.
A resident of the community, who asked not to be named, told this newspaper on Thursday that pipes were placed beside the work site and the workmen indicated that it was intended to place them within the depths of the well as well as within the water network. She said persons immediately raised objections for health and environmental reasons.
Richard Alleyne, an APNU MP who is following the issue, told this newspaper recently that the use of the material could pose health issues for those who are expected to benefit from the project. He said that the contractor should have received the relevant funds to purchase new pipes for the project and he questioned whether in fact the monies had indeed been used for this purpose.
According to the CDB website, the Meer Zorgen/Malgre Tout Neighbourhood Development Council (NDC) project was approved on August 18, 2010, under the BNTF 6th Programme. A sum of US$495,000 was allocated for the project.
The project involves the laying of a water distribution network to Guyana Water Inc (GWI) standards, consisting of 1.6 kilometers (km) of 200 mm diameter PVC pipelines, inclusive of all valves, bends and couplings; 40 metres of 200 mm diameter and Ductile Iron (DI) pipe for trench crossings and road crossings.
The water well is being constructed to a minimum of 1,315 cubic metres/day capacity and is expected to be sunk to a depth of approximately 200 metres based on current borehole analysis.  More than 10,000 persons from the villages of Goed Fortuin and La Grange are expected to benefit from the project.
Around the Web