Magistrate Krishndat Persaud sentenced a Corentyne man yesterday to five years imprisonment when he appeared before him charged with attempted murder.
The court heard that around 3:30 pm on February 7, Vibert Morris, called 'Red Man' inflicted wounds to Jaiwantie 'Sabita' Sharma of Corriverton to her throat and head with a knife.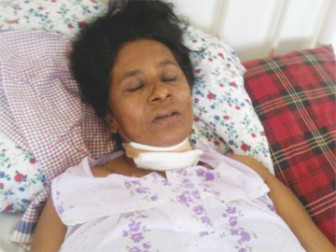 The case was first called at the No 51 Court on Monday where it was tried summarily and Morris pleaded guilty to the offence.  The magistrate then deferred sentencing and transferred the matter to the Springlands Court after the medical report was not available.
Reports are that Morris was trying to rob Wazir's Top Quality Depot where Sharma was employed as a salesgirl when he injured her.
She was picked up and rushed to the Skeldon Hospital where she was treated and immediately transferred to the New Amsterdam Hospital. She was discharged after spending a few days in hospital.