HOUSTON (Reuters) – Allen Stanford lied to his investors and stole their money to spend on himself, a U.S. prosecutor said today, near the end of the former financier's five-week trial on charges of criminal fraud.
"If you follow the money, that path, that road, leads straight to Allen Stanford," prosecutor William Stellmach said as he summed up the government's case against Stanford in federal court in Houston.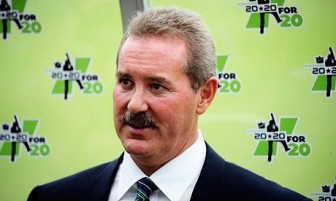 Stanford is accused of using the deposits of investors in his bank in Antigua to finance a playboy lifestyle. The alleged $7 billion Ponzi scheme is one of the biggest financial scams since Bernard Madoff's.
Stanford, 61, has pleaded not guilty to 14 counts that include fraud and conspiracy. His defense team was scheduled to sum up its case later today.
Before the day's proceedings began, Stanford embraced his lawyers and smiled at his mother, Sammie Stanford, and two of his daughters. Stanford wore a navy blue, double-breasted suit and – for the first time since the trial began on January 23 – a tie.
Stellmach pointed at Stanford as he addressed the jury during his summation. "The man sitting at the table executed a scheme for 20 years to line his pockets with billions of dollars of other people's money," Stellmach said.
Prosecutors contended that Stanford told his clients their funds were being invested safely in blue-chip stocks and bonds. He used phony financial reports and bribed his bank's regulator in Antigua and its auditor in an effort to cover up the theft, they said.
All the while, he "flushed it away" on failing businesses, yachts and cricket tournaments that he financed, Stellmach said today.
During the trial, prosecutors called former Stanford employees, including accountants and a graphic designer, who told the jury they suspected wrongdoing. On cross-examination, however, they said they had no direct knowledge of fraud.
James Davis, Stanford's former chief financial officer, testified that he and Stanford ran the scheme together for several years. Davis, 63, told of multimillion-dollar transfers from a Swiss bank account funded with investor proceeds as well as fake documents meant to conceal missing money. Davis has pleaded guilty to three criminal counts in a plea agreement.
Stanford's attorneys also tapped former employees during the trial. They testified that their former boss left day-to-day responsibility for running his companies to others. In addition, expert witnesses, including accountants, told the jury that the bank's financial reports were not fraudulent. But after two days of expert testimony, jurors grew fidgety and the defense called fewer witnesses than it had scheduled.
One of the big questions hanging over the trial was whether Stanford himself would take the stand, after his lawyers said he was determined to tell his own story. Stanford decided not to do so on Monday, at the last minute. His mother told reporters that Stanford's lawyers had persuaded him not to testify, and that he may have decided against it because he was ill with bronchitis.
The case is USA v. Stanford et al, U.S. District Court for the Southern District of Texas, No. 09r-00342.
Around the Web