The teenager implicated in the murder of 17-year-old Anfernee Bowman remains on the run.
Chase Academy student Bowman, of Lot 77 Robb Street, Bourda, was stabbed to death around 6:30pm on Monday. His assailant is said to be a friend he had known for more than five years.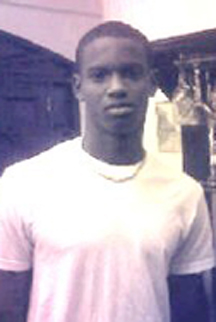 Crime Chief Seelall Persaud yesterday disclosed that the suspect is 16-years-old. According to him, the two attended the same lessons at Festival City Exit, South Ruimveldt and as they were leaving, they became engaged in an argument. The dispute, Seelall said, ended in one boy stabbing the other.
Anfernee's father, Gary Bowman had said that his son was stabbed three times; to the heart, the stomach and to his side. The boy's mouth was also reportedly slashed. The boy's father told Stabroek News yesterday that the family is still in disbelief at the boy's demise. "He is our only son. It is a rough time for us; my wife is inconsolable and my daughter is grieving," the man said solemnly.
The mourning father recalled Monday morning, the last time he saw his son alive. "Yesterday morning, as he left for school, I talk to him.
He was going with his mother and sister because she usually drops them off… but he was late. His room was very untidy and she send him back to clean it up. He left home around 8:30am and all he say is, 'Daddy I gone,'" the man recollected.
Later that morning, Gary Bowman said, he was sitting at home watching a 20/20 cricket match on television and messaged his son the scores. "I BBM him and told him when Dwayne Smith made a 100 and he replied… that was around 9:30am," he said.
Bowman stated that he has since provided police with a statement and he was told that investigations are ongoing. He related that the police have since made two visits to the suspect's home but his parents said they were unaware of his whereabouts.
"The boy is still at large. They said they went to his house last night (Monday night) and this morning (Tuesday morning) at 4 and spoke to his parents.
They say when it happen, their son called them and told them that he just stab up Anfernee and then he hang up but when they try calling him back the phone was turned off," he explained.
When asked if he had known the two boys were having an ongoing dispute, Bowman responded in the negative, adding that he had never known the accused. However, he said, his wife indicated to him that she had met the other boy a few times when he visited their home and he had even referred to her as 'Aunty.'
"I never heard anything about this guy before but they went to school for five years and they were friends," the man said.
Bowman added that although any parent would strongly represent their child in situations like this, he could genuinely say that his son was not a bad child. "He would go to school and the only thing that used to distract him was girls, nothing else.
He was a good kid," he noted.
He also recalled that in 1994, at the time of his son's birth, he served as a Senior Pressman at Stabroek News, where he had worked for over 10 years. "At that time the printery was in Robb Street and when he was born, I was printing (a newspaper) supplement," he said.
Around the Web