Gaily dressed Region One residents turned out in their hundreds to see revellers and floats as they tramped along the main Mabaruma road to the recreational park to celebrate Guyana's 42nd Republic Anniversary.
According to a Government Information Agency (GINA) press release, several colourful floats were displayed,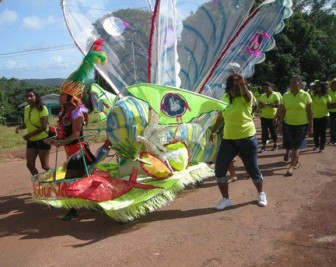 among them bands from the regional administration, the Mabaruma Regional Hospital and the Region One education department.
The parade ended at the Mabaruma Recreational Park where the floats were judged in three categories.
A foreigner was reported as saying that he did not know what to expect but had heard stories about how vibrant the activity usually is and it was an experience that he will never forget.
In addition, the Department of Education held its Annual Children's Costume Competition where the top performing schools were chosen to represent the region at the national competition in Georgetown.
The Annual Schools' Mash Float Parade also saw a good turn-out of students and teachers displaying their floats and tramping along the main road of the Mabaruma Sub-region.
The region also hosted a number of sport competitions such as football, cricket, road and cycle races which were held at the Hosororo playfield.
The Mash programme was organised by Elton Brown, an officer attached to the Ministry of Culture, Youth and Sport and it was sponsored by the Guyana Telephone and Telegraph company and other private businesses.
Around the Web