With no plea deal as yet, the trial of Guyanese businessman Ed Ahmad who has been indicted in New York over a US$50M mortgage fraud is set to get rolling with jury selection on May 21, 2012.
Ahmad who came to notice in the US media after it was disclosed that he  once gave New York Congress-man Gregory Meeks US$40,000 had been negotiating a plea deal with federal authorities in Brooklyn and these talks were expected to stretch to the end of February. There is still no sign of a deal however.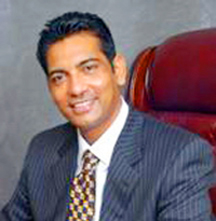 Ahmad was detained last July on charges that he operated a US$50 million mortgage-fraud scheme in Queens. He faces a maximum of 30 years in jail. He is presently on US$2.5 million bail.
At Ahmad's most recent status conference on February 24, both sides began discussing arrangements for the trial. According to court documents seen by Stabroek News, the government expects that its case will take two weeks and the defence expects that its case will take one week. In total the trial could take a month to cater for deliberations.
According to the court documents jury selection will be conducted by a randomly assigned magistrate and will begin on May 21. The US government has to have its witnesses available immediately after jury selection.
The court documents add that neither party is precluded from making additional requests before the trial which leaves open the possibility that a plea deal could still be possible.
The case will be presided over by Judge Dora Irizarry who has dealt with several other cases involving high-profile Guyanese.
Ahmad's case has attracted great interest in Guyana because of his close ties to former President Bharrat Jagdeo. Ahmad had shipped a container of goods to Jagdeo at State House and many questions were asked about this.
Three alleged co-conspirators — Ahmad's cricket friends and employees — were also indicted in an associated case last year, court records show.
The report said that Queens-based brokers Qayaam Farrouq, Mohamed Gurmohamed and Guyanese cricketer Steve Massiah were charged with defrauding banks and mortgage companies by falsifying mortgage- loan applications to make borrowers appear more creditworthy to financial institutions, court records show.
Ahmad's relationship with Meeks came under intense scrutiny in 2010 after the Democratic congressman disclosed that he had received the US$40,000 payment from
Ahmad in 2007. Meeks only disclosed the payment after Ahmad was questioned by the FBI last year. He claims he repaid the money following the questioning.
The House ethics committee is probing whether the payment was a gift and not a loan, as the congressman has maintained.
Around the Web