ANSA McAl executives yesterday rejected claims that the Trinidad-based conglomerate signed a secret deal with the Government of Guyana (GoG) to establish an ethanol plant here, saying that much depends on a feasibility study due to be completed by year-end.
"This is by no means an undercover deal or transaction. There was no deal or there is no transaction. What there is, is a commitment by us to spend TT$17M to prove if we have a project or not… that is simply what is on the table," said Group Finance Director for ANSA McAl Aneal Maharaj, at a press conference at the Pegasus Hotel yesterday.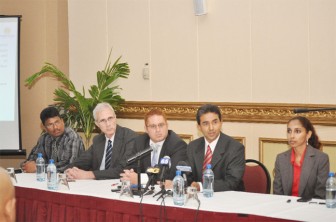 The statements from ANSA McAl executives come in the wake of controversy surrounding the recent disclosure of a bilateral Memorandum of Understanding (MoU)  signed in September last year by the GoG and the company. News of the signing only came to the local public's attention through an article published in the Trinidadian Guardian newspaper last Thursday. The GoG has denied that the bio-fuel MoU signed with ANSA McAl was "secret" and said that the Trinidadian conglomerate was selected after its proposal was scrutinized by technical experts in the field of bio-energy.
"It's obvious that there is some level of lag between the signing of the agreement and when this release was actually sent out. Certainly, there is nothing sinister about that. There were certain aspects of a release that needed to be jointly agreed to… these are not CIA files, this is just a matter of logistics," Group Business Development Executive Anthony Sabga III said yesterday.
He suggested that delay in releasing information was due to the regional and general elections here in November, coupled with ANSA McAl's focus on other projects and the carnival season. He said, "You did go through an elections and as such a public relations release was maybe not a priority, seeing that the government was going into an election at the time…."
The government here has not explained why it did not release a statement on the signing of the MOU.
Through a PowerPoint presentation, Maharaj detailed its gestational phase to the present estimated TT$17M feasibility research phase. He also gave an overview of the long-term benefits of the project but said that futuristic investment questions were premature and could only be answered after the completion of the research.
ANSA McAl hopes that given a favourable feasibility study focused on risks involved in areas of land, soil-type, land-preparation, sugarcane variety, transportation, choice of plant technology, potential revenues and labour costs, it will be able to pump some USD$250-300M into the ethanol plant project here.
The company hopes to produce 40 million gallons of ethanol from two million tons of sugarcane, with 152 million liters (nameplate capacity) of ethanol annually.
Guyana was selected for the exploration of the investment because of its stable currency, its over 300 years of experience in the cultivation of sugar cane—the crop that would most probably  be used to produce ethanol—and ANSA McAl's business record here.
ANSA McAl is of the view that the ethanol plant project would be beneficial to all Guyanese and looks forward to the local support.
An area in Berbice, including parts of the Canje Basin, will be used as the proposed site but the company officials stated that research would not be limited to that particular area. Given global warnings that as the world moves towards renewable energy in the form of ethanol that food production will decrease, company officials assured that  this would not be the case in Guyana, given that the proposed lands are virgin lands and that current sugar cane production would not be interrupted.
The officials declared that they are committed to sharing details of the research findings but would first seek agreement from the GoG. "At the end of the day, this is business and business has a competitive nature. ANSA McAl competes for capital and competes for projects with many other companies regionally, so I will be hesitant to give you an assurance that we will share that agreement with you," Maharaj added.
Around the Web