Former University of Guyana lecturer Freddie Kissoon says he is satisfied with the outcome of the five-week strike even though there was no immediate reemployment of the three lecturers terminated – of which he is one.
During a telephone interview yesterday with Stabroek News, Kissoon opined that better feedback from the government was not something he had expected, given "the attitude of the government".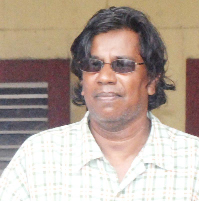 "I don't think you could have gotten any better results based on the attitude of the government.
The higher authorities, specifically President Donald Ramotar, didn't take interest for that five-week period. He had to consult with his people. I believe that he wanted me out. He gave no instructions for the matter to be resolved.
The government allowed discussion on everything else except the termination of the three lecturers. That is the Guyana government's position," Kissoon stated.
Apart from that, Kissoon said he was very pleased with the support he received from the various unions that formed Operation Rescue UG and considered the results obtained a victory on their part.
"I could not have asked for any more commitment from Operation Rescue UG. They provided a great framework for the rehabilitation of UG… I would have had to make a sacrifice for the other demands to be met.
That was victory. I am pleased even if I am not reemployed. This conflict generated victory for us and that is irreversible in my mind," he said.
Operation Rescue UG, consisting of the University of Guyana Senior Staff Association (UGSSA), the University of Guyana Workers Union (UGWU) and the University of Guyana Student Society (UGSS), was recently formed and has been protesting against the poor conditions of the Turkeyen Campus.
After meeting with Minister of Labour, Dr Nanda Gopaul, on Saturday last, an agreement was reached, resulting in the cancellation of a three-day strike which was scheduled to begin on Monday last.
Infrastructural issues were addressed and agreed upon, however, the issue of the termination of lecturers is expected to be addressed only after a week of full resumption by lecturers and other staff members.
Meanwhile, with regard to government officials sitting on the university council, Kissoon said he is not of the impression that such a scenario will ever be played out again.
"I don't think we will ever see again a council with nine government appointees including people with no education. That is the victory…that is what I have been fighting for since I became a member of council. That, for me, is a victory.
I have to juxtapose that against not being reemployed. We have been struggling for our rights at UG. You win some, you lose some. If I don't go back to UG, I am satisfied," Kissoon stated.
He pointed out that quality leadership was provided by UGSSA President and Vice President, Dr Patsy Francis and Dr Melissa Ifill respectively, and also President of the UGSS, Duane Edwards. "Results were what we got, minus immediate reemployment of the three lecturers," he reiterated.
Kissoon stated that he has since been asked by UG economist, Dr Thomas Singh to submit his curriculum vitae and to provide completed research which he noted has already been prepared. Singh is expected to lead discussions on the contract termination matter.
"I think their ('Operation Rescue UG') position will be when you juxtapose my records with those of others who have been reemployed; they [administration] will have a problem justifying my dismissal," he suggested.
He further indicated that senior labour officer, Charles Ogle, has been sent on leave. "I don't think that bodes well because he has all the background. I think Operation Rescue UG will ask that his leave be suspended," Kissoon said.
He said he was not aware of when the discussions will begin. "I don't think the government ever adheres to timelines so this situation may be no different."
Specific areas to be addressed are the Agriculture, Natural Science Annex, Biodiversity, Health Science, Education Lecture Theatre, Technology, Stables- Arts and Social Sciences, George Walcott Lecture Theatre and the small lecture theatre. These buildings are all slated for repair
The roofs of the Senior Common Room, New Building Society Hall and Residence, Technology, Maintenance, Offices of Natural Science, Health Sciences Anatomy Labora-tory and the Stables- Social Sciences and Arts will all be replaced.
There will be rehabilitation and flushing of all manholes and total restoration of tile work in washrooms. It was noted that the perimeter canals are constantly cleared but clearing of the main distribution outlets leading to the Liliendaal Pump Station outside the campus will be addressed.
In addition to this, the electrical wiring in 90% of the existing buildings will be replaced. Also, 70% of the campus will be fenced.
Around the Web