President Donald Ramotar met yesterday with Leader of the Opposition David Granger at the Office of the President where they discussed constitutional and statutory matters with regard to appointments to about ten key public sector posts.
The two consulted on statutory appointments such as the Chancellor of the Judiciary and Chief Justice, the Human Rights Commission, the Integrity Commission, the Ombudsman, the Public Service Appellate Tribunal, the Public Procurement Commission, the Protected Areas Commission, the Guyana Elections Commis-sion, Guyana National Broadcasting Agency (GNBA), and the Advisory Committee on Broadcasting (ACB).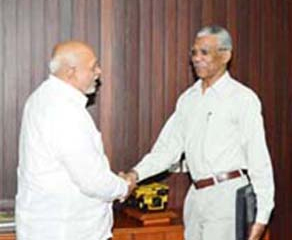 According to Granger, yesterday's meeting dealt with the method of appointments to these posts. He said that no names were discussed at this meeting and that there is yet to be final agreement on the method to be employed.
Granger said that he has submitted a draft of a code of conduct for the appointments to ensure that those appointments are guided by certain base principles. He said that while there has been no agreement on the draft code of conduct, there is to be another meeting sometime next week.
President Ramotar's team comprised Attorney General Anil Nandlall. Granger's team comprised Joseph Harmon and Lance Carberry.
Over the past two months, the President has been engaged on behalf of Government with the members of the Opposition on a number of issues, including matters related to the National Assembly, the national budget and tax reform.
However, the recent election of both Speaker and Deputy Speaker of the National Assembly from within the opposition ranks and the contentious debate over two financial papers have soured the atmosphere.
The latest engagement between the Government and the Opposition in  Parliament ended in stalemate with the Government holding the position that the Committee of Selection should be reflective of the sizes of the three parties represented in the National Assembly. By extension, the Government wanted all committees whose composition is determined by the Committee of Selection to be weighted towards Government.
But the Opposition would have none of this.
Around the Web