President Donald Ramotar yesterday refused to answer questions on the fate of Police Commissioner Henry Greene and his admission that he had sex with a woman who was the subject of a criminal investigation and who had gone to him for help.
When approached after the opening of the annual Police Officers' Conference yesterday, Ramotar said "let the people do their jobs." When it was put to him that Greene admitted having sex with the woman, he said, "It was consensual, as I understand it."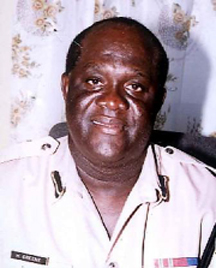 This newspaper attempted to ascertain whether Cabinet had discussed and decided the fate of Greene as the Police Commissioner but Ramotar walked off, shaking hands and greeting persons who were in attendance at the conference.
The woman has accused Greene of raping her. Although the Director of Public Prosecutions (DPP) has advised that a rape charge be instituted against the on-leave Commissioner based on investigations, his lawyers have secured temporary orders barring the police from charging him and quashing the DPP's advice to lay the charge.
The matter is still before the High Court.
Several weeks ago, Head of the Presidential Secretariat Dr. Roger Luncheon had said that Greene's admission of consensual sex in court documents concerned government and in time could attract disciplinary action. He later said that the matter would be looked at by Cabinet.
The allegation against Greene first surfaced in early December last year, and the woman made a complaint to police.
Later President Ramotar instructed the Home Affairs Minister to seek external assistance to investigate the matter and a team of Jamaican investigators subsequently aided local investigators.
Around the Web