For the police force to restore its good image and public trust, corrupt ranks need to be rooted out, President Donald Ramotar said yesterday, while also urging more quality investigations to reduce failed prosecutions.
"Corruption must be dealt with condignly. You cannot deny that there are a few members of the force who have been tarnishing the good image of the organisation by their involvement in corrupt activities. All forms of corruption in the force must be rooted out," Ramotar said, during the feature address at the opening Leroy Brumell of the Annual Police Officers' Conference at Eve Leary. He called on all those gathered to work towards the organisation becoming "an example of cleanliness and transparency."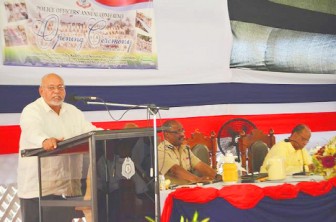 "The police force is just a part of the overall system of justice in Guyana and we must be assured that there are improvements in other areas of the justice administration," he, however, added, while noting that he had seen some appalling figures on the conclusion of court cases. This situation, he said, needs to be addressed and ways need to be found where the judiciary can complement the police force in the crime fight.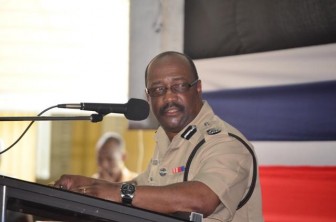 Ramotar further said that police investigations must be thorough and charges must be laid on justifiable grounds, noting that too many cases are thrown out of court and too many criminals walk free "because very often the police does not prepare the case in a proper way."
Ramotar, in his inaugural address to the Guyana Police Force since assuming the presidency, also touched on his government's efforts so far to improve the force and future plans but opposition leader David Granger later poured cold water on the presentation, saying it was merely a 'pep' talk and failed to address critical issues.
Deficiencies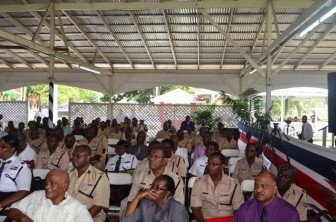 Granger told reporters that Ramotar did not tackle issues that acting Police Commissioner Leroy Brumell mentioned in his speech (see other story on page 3). "I think the police commissioner was very sincere when he pointed to some deficiencies but there seems to be two different narratives. One gave a pep talk and the other is looking for real assistance to turn the public security situation around," he said.
He added that Ramotar failed to address the issues of violence in the hinterland, piracy, corruption and morale as well as the fundamental issue of salaries and the conditions police are currently working under.
Granger noted that while Ramotar congratulated police for their work on Elections Day, they had no food. "They had to go asking businessmen for money or for food and then you have to go back and prosecute the same businessman for crimes," he said, while adding that he saw two different presentations.
Recapitalising
Ramotar, saying there is a link between social and economic progress and security of a nation, argued that "successive PPP governments" have worked hard to improve the conditions of the police force. He recalled that in 1992, many of the police stations were in disrepair and there was a shortage of vehicles, which affected the response to crime.
As a result, he said priority was given to recapitalising the force and "in so doing restoring greater dignity to the policemen and the policewomen."
He added that government has pumped a lot of money into the force, with $484.3 million made available in the last year alone. He also said that the working conditions of ranks have been improved with the construction of police stations and renovations of others, accompanied by "an increased injection of resources so as to improve the crime fighting capabilities" through the acquisition of vehicles, equipment and supplies.
He added that the laws were also put in place to help police, including the introduction of plea bargaining and acceptance of audio video testimony in court.
"We sought to modernise the process of crime solving and crime monitoring capabilities of the force," Ramotar said, noting that the crime observatory was established to map crime trends and compile statistics that would guide policy making. Presently, he said, a crime laboratory is being constructed and when completed and equipped it will allow the force to benefit from some of the most advanced scientific forensic tools.
These capabilities in other parts of the world, he added, have a significant impact on the success of crime solving and crime prosecution.
Ramotar admitted that over the years, the force has faced many challenges and identified the infiltration of drugs into the country as still being a major issue as it has resulted in high levels of violence and criminal activity that has had "a corruptive influence within our society." He said that the drug trade has been identified as a global problem and to defeat it will call for a movement away from traditional approaches.
Violent crime, particularly those involving the use of firearms, poses a major challenge for the police, he added, while pointing out that many such crimes are linked to the drug trade.
Domestic violence, he said, is another cause of concern and he urged the police to take such crimes seriously and adopt a more specialized approach. He also urged the police to work closely with the community as building trust and confidence is an important aspect of all types of crime fighting.
In addition, Ramotar noted that local and international training programmes have also been encouraged for members of the force, given that it is integral to build greater capacity among its leadership.
He reminded those gathered that there was a plan by the government to train 50 cadets, who will in the long term assume leadership positions in the force. "The objective of the government is to ensure that there will be long term sustainability of  (the) senior and middle management structure of the force," he said.
Around the Web