Vendors, who were on Sunday last removed by the Mayor and City Council (M&CC) from plying their trade outside the Stabroek Market, are upset as a taxi park has been set up in the area they were told needed to be cleared for pedestrian use.
"How can anyone be so cruel to we? Remove people, mostly women with children and families from selling to put a car park? A taxi park? They break down our stands now we have nowhere to go. Nowhere!" said Rhonda Marks as she broke down in tears.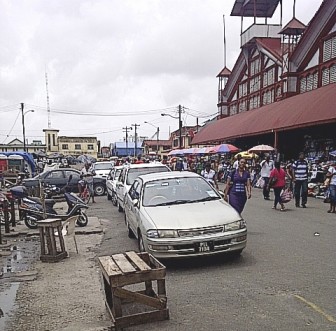 The 44-year-old woman informed that 62 persons, herself included, are still awaiting word from the M&CC on alternative vending arrangements. She said she is currently cash-strapped, since she has not been able to sell for the week. The mother of five minors said she was the only breadwinner for her home since her husband died two years ago. She is pleading with the mayor to find an alternative.
"The mayor said he gave us notice but he didn't. I think he is mixed up with people who got stands in Donkey City [Stelling View Mall]  and us but put that aside, I want him to know when he goes home to eat three square meals there are six people – five are children – who want to know where one coming from."
Mayor Hamilton Green, when contacted on the issue, said he was not aware that the area was used as a taxi park. He said he would "look into it." Questioned on the future of the vendors, he said that he was unable to comment at the time.
Another vendor, Harold Henry, said he had been selling at that location for over 15 years and was never given a space in the "Donkey City" arcade although he had applied several times.
He believes that the authorities are not doing enough to solve the ongoing disputes between the vendors and the M&CC. "Being practical, selling out here brings in more than if we were anywhere else. People pass here all day and it's a hot spot for selling. But I am one person who was willing to leave here for something stable. I applied too much times and still waiting.
Now they come bruk down the stalls and people are left asking how they will make their daily bread," he said.
When Stabroek News visited the area, private cars and taxis lined the stretch and had replaced the once busy vending area. Taxi drivers could be heard asking persons as they exited the market if they needed their services.  When approached and asked by this newspaper if permission was granted for parking, one of the drivers of a private car replied, "Who gat to give that permission?
I hustling here, everybody got to hustle. Is just a opportunity we see and making use of it 'cause people would more tek a car nearer to the market than walk till over there. We glad dem get move."
Meanwhile, some vendors have resorted to ingenious ways of selling their products. Some displayed sunglasses on a mobile stick, watches connected together to form a belt, pieces of clothing hanging from their person on clothes hangers and using carton boxes, which they held, to display small articles for sale.
Around the Web