Home Affairs Minister Clement Rohee on Thursday warned police ranks, especially senior officers, against releasing sensitive information to the media.
"There are some in our midst who think that they are doing the force good by helping to grease those sections of the media hostile to the law enforcement agencies by providing classified and internal information as well as their own personal views and analyses on sensitive issues," Rohee said at the Annual Police Officers' Conference.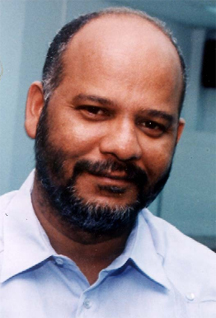 He was at the time referring to an article in the Kaieteur News which purportedly reflected the views of `C' Division Commander David Ramnarine. "I want to warn against this malpractice. The Guyana Police Force is an integral member of the disciplined services and as such its members are expected to behave in a disciplined manner," Rohee said.
He added that once the Police Commissioner issues a Force Order in respect to communications with the media, "it is expected that all and sundry within the force, particularly at the senior level will fall in line and uphold that order and will not seek to adopt an individualistic and egoistic stand and more so provide their personal view to the media."
Police Commissioner Henry Greene, who is currently on leave pending the outcome of a rape allegation made against him, had warned Divisional Commanders not to interact with members of the media. He went as far as issuing a press release through the police Public Relations Office (PRO) which stated that only he, the Crime Chief, Assistant Commissioner Seelall Persaud and the PRO were permitted to release information to the media.
Meanwhile, Rohee said that in his opinion the force performed credibly during 2011 and experienced periods of successes and instances of challenges. He said that although serious crimes increased in 2010 there were reductions in the murder and armed robbery in which firearms were used.
However, the sporadic robberies in Corentyne and Canje in Berbice, parts of the East Coast and in Georgetown during last year continued. "Any shift in crime trends must see a corresponding shift in the strategy and tactics of the Guyana Police Force in its efforts to fight crime. In this regard, there is a compelling need to devise a fresh and innovative strategy to address the crime situation at E & F Division," he said, referring to the division that includes interior locations.
He added that more analysis of crime and crime trends ought to be done, saying that it will allow for better use of human and vehicular resources by the force. He also urged that the conference be used to assess the force's marine capability, in view of the threats posed to the fishing industry by pirates. A quicker response, he said, as well as an enhanced and diversified Marine Branch of the force should be one of the issues under consideration.
Pointing to allegations of corruption, which remained a concern for his ministry, Rohee said the force will have to review some of its control mechanisms and supervisory systems to tackle this aggressively. "However, some of the incidents of corruption seem to have occurred as a result of systems failure and inadequate supervision," he noted.
Around the Web