A Sophia woman was brutally chopped and beaten by her husband, from whom she is separated, when she visited his home to ask for money for the maintenance of their four children.
Abiola Marshall, 29, suffered several chop wounds to her hands and was allegedly hit with a chair to the head, which eyewitnesses said caused her to tumble down a flight of stairs.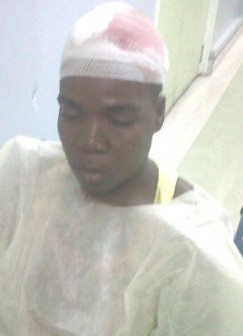 A relative told Stabroek News that the woman left her home to visit the man, who also lives in Sophia, around 1 pm.
"The neighbour say she went up to him and they went talking then he hear like a lash and he ain't take it for nothing, then he hear a next one and see she falling down the stairs and the man come with a chain and lash she in she head," the girl said.
Reports are that the man armed himself with a cutlass and then dealt several chops to the already injured woman.
A neighbour who had witnessed the beating reportedly intervened and offered to take the woman to the Georgetown Public Hospital where she remained up to press time.
The woman was in a conscious state and related the incident to her family.
The incident has since been reported to the police and relatives said the man has been taken into police custody.
Around the Web