Relatives of Nalini Bhoge continue to hope that her killer(s) will be found but police investigators say that there is just no evidence to implicate anyone even though they have their suspicions about who planned the brutal crime and a possible motive.
More than two years have passed since the then 43-year-old mother of three was found in her Line Path, Skeldon home with her throat slit, just over an hour after her children left for school.
A source close to the investigation said police found no evidence at the house. The report given was that when the children and her husband left the house, the woman was mopping.
Police, according to the source, received a report that a man who did odd jobs in the area was seen standing near the house but investigations revealed that he was at another location in the community when the woman was killed.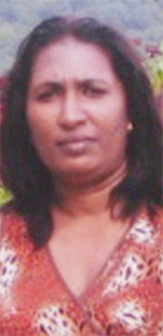 Stabroek News was told that at that time of the day there were no neighbours around, so no one saw any suspicious persons prior to the discovery of the body. The source said that there is a belief that the intention was to kill the woman but the perpetrator/s attempted to make it look like a robbery by removing jewellery, money and the children's passports from the house. The passports were later found in the backyard when investigators combed the scene.
The source stressed that investigators had their suspicions as to who was the mastermind but "there was no evidence to back it up."
On January 25, 2010, the woman's battered body was discovered lying on the floor of a bedroom by her husband, Budh Narayan Bhoge, 52, an American citizen who was one of several suspects held shortly after. He had told this newspaper that he left home to drop the children to school and then went to the bank and the gas station. He also met two of his colleagues at the gas station and they chatted and then he gave one of them a lift to the store and dropped the other one home.
The man related that although he did not see his wife when he got home, he did not call out to her as he thought she was doing her chores as usual. A few minutes later, he said, he called for her but got no response and he decided to search the house. It was then that he made the gruesome discovery.
He said when he saw his wife's remains on the floor in his eldest daughter's bedroom he was "devastated." He said he immediately alerted a man who was passing and the police arrived shortly after. There were several chops and stab wounds on the woman's neck and upper back.
Days after, her relatives told this newspaper that it seemed as though the attacker "had eyes on she a long time ago". They were referring to a robbery that occurred at her home over three weeks prior and at the time felt that the killing had some connection to it.
The relatives said that the woman and her family had gone to a fair in the area and returned home to find the place ransacked.
They also discovered that $700,000 as well as a pouch with Bhoge's "bank card and security card" was missing but the family did not report the robbery to the police. The woman's relatives were certain that those same persons who committed the robbery were the same ones who murdered Bhoge because the house was ransacked in the same manner and at the same points.
'Nothing I coulda do'
When Stabroek News contacted Bhoge's mother, Vidwattie Tilakdari, she said that memories of that day are still fresh in her mind and her grandchildren, now aged 14, 12 and nine, often bring tears to her eyes. Tilakdari said that to this day she just does not know why her daughter was killed, adding that the woman never expressed any fears to her. Bhoge was the youngest of her five children and Tilakdari described her as the type of person who would resist if attacked and she opined that this may have led to her death in the event of a robbery.
Tilakdari noted that a long time has passed and the last word she heard was that police "deh pon de investigation." She, however, never went to the police to follow-up with investigations and they did not call her to give her updates.
The elderly woman recalled that after being told that something had happened to her daughter, she had journeyed to Bhoge's house. When she entered, she saw her lying on the floor with a cut to her neck. "When I go and I saw her there is nothing I coulda do," she said.
Despite the time that has passed, Tilakdari wants to know who killed her daughter. "I ain't got money. If I had I woulda take up this matter," she said.
She added that she knows that she cannot give up but she stressed that there is not much she can do. She recalled that some time last year, she met a detective and he told her that they were still working on the matter. "I just keeping my fingers crossed that someday something will happen," she pointed.
Since the murder, the children have been in the care of Tilakdari, who explained that she took them because there was no one else to care for them. She said that the children understand clearly that their mother is dead and will not be coming back to see them.
They often talk about their mother but Tilakdari tries to avoid the subject given the pain she still endures. She said that in spite of their loss, all three children are doing reasonably well at school.
Tilakdari could not shed any light on why her son-in-law had been held by police. She said though that he visits and is fulfilling his financial obligations to the children. Sometimes they talk about her daughter, she added.
Around the Web