Home Affairs Minister Clement Rohee on Friday handed over a fleet of vehicles to the Guyana Police Force including several All Terrain Vehicles (ATVs), which are to be dispatched to interior locations.
This $74 million investment, according to Rohee, is part of the 2010/2011 budget and he gave all assurances that additional resources will be provided to the force during this year.
During a simple handing over ceremony at the Tactical Services Unit (TSU) drill square at Eve Leary, he told those gathered that when President Donald Ramotar spoke at the opening of the Police Officers' Annual Conference on Thursday a pledge was made to continue providing the requisite assets to capitalize the Guyana Police Force in the years ahead.
He said this handing over represents the government's commitment to continuously giving resources to the police to enable them to carry out their duties effectively.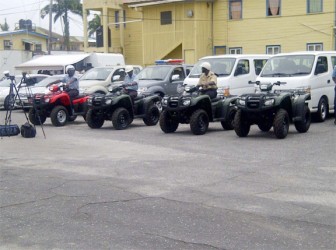 Giving a breakdown of the cost of the new vehicles, he said that the mobile unit was imported at a cost of $20 million; four trucks cost $20.8 million and two double-cab pick-ups at a cost of $20.2 million. He said that all the vehicles together cost $74.5 million.
"This is a huge investment by the government and as always we would expect that these vehicles will be kept in good working order, that preventative maintenance will be carried out on them in a regular manner and that they will be used particularly to assist the police in responding to calls by the public to issues of concern," Rohee said.
He said he recently heard someone saying that government is lagging behind in providing vehicular land and water transport to the police. He expressed hope that the handing over ceremony would dispel this myth.
Rohee urged Police Commissioner (ag) Leroy Brumell to ensure that the vehicles are properly utilized especially the ATVs which are to be dispatched to the interior where "we have certain challenges in relation to crime fighting".
Moments after collecting the keys to the vehicles from Rohee, Brumell expressed gratitude. He said that he is very serious when it comes to the maintenance of vehicles and as such he will ensure that each vehicle remains in the best shape and is serviced when necessary.
He said that recently he instructed the Force's Transport Officer to have the water cannon driven on the road. "Let them take it around and drive it around and bring it back, don't just have it there," he said. Brumell's statement suggests that the multi-million dollar piece of equipment geared to assist in crowd control is back in working order.
He later said that the new vehicles will be used for the purposes intended and nothing else.
Assistant Commissioner of Operations, Gavin Primo, earlier noted that the new vehicles will compliment the ones that the force already has. He assured the minister that in handing over the vehicles they will greatly assist ranks in carrying out their mandate and motto which is to serve and protect.
He urged the users of the vehicles to ensure they are properly maintained and cared.
Vehicles worth $74.5M handed over to police
Around the Web