Fifty families now own their own homes through an $80 million project in the Adventist village, Hosanna, in the Mashabo Settlement on the Essequibo River compliments of Food for the Poor (FFTP) and the Stoner family of the USA.
The new village was inaugurated on Thursday during a small ceremony, which included cultural performances and speeches. Villagers also honoured donor Charles Stoner, who was present along with members of his family, with tokens of appreciation.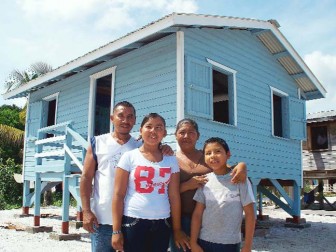 Apart from the 50 new houses with sanitation blocks, the project also included a community centre and a water project. Some of the houses have solar panels.
Leon Davis, executive director of FFTP Guyana said it wasn't easy with this being the sixth such project in the region. "We also began a self sustainable agricultural project – the Mashabo Integrated Agricultural Enterprise, which consists of a green house, a fish pond and soon-to-come poultry rearing," Davis said.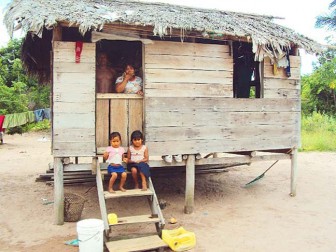 Natalie Carlisle, Vice President, Major Giving FFTP, fondly called the 'begging lady' by FFTP staff, who is responsible for soliciting donors said that it was always good to see God's blessings come through kind persons such as Stoner.
Minister of Amerindian Affairs Pauline Sukhai expressed thanks to the Stoner family, stating that even though it wasn't mentioned FFTP maintains a relationship with the government which allows them to work together in such ventures and make them successful.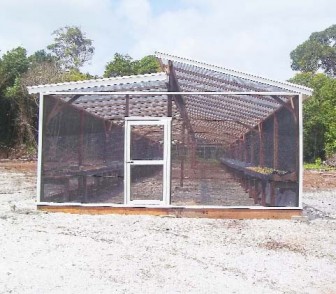 Sukhai also assured the residents that the ministry intends to place solar panels on all their homes within two years.
She said that they already have 1,000 solar panels but are awaiting 10,000 more and also some personnel to head the installation process.
With reference to the agricultural project she stressed the need for the ministry to have persons with the relevant expertise to carry out such ventures and that the ministry is working assiduously to achieve this.
Charles Stoner told the gathering that he and his wife have been extremely blessed in their life and that it brings his family joy to do what they're doing.
He then asked how the children get to school and when told that they did so by boat, he promised to donate a boat to aid them.
Toshao Sylvain Raphael expressed appreciation on behalf of the people of his community and admonished the recipients who are all low-income families to take care of what they have received. He also said that with the other initiatives they plan to continue development and pretty soon their little Adventist community will become a tourist destination.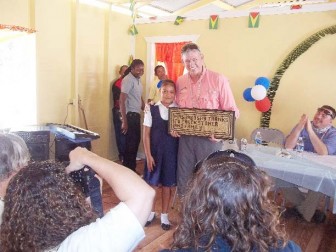 Many recipients were at a loss for words but Harold Eliot said, "we used to live in thatch house, but since God bless abe through Mr Stoner we happy happy."
Another resident, Alvin Christian, showed the Stabroek News' reporter around his home saying, "me family and we do up we house and we gon tek good care of it."
Residents also expressed thanks to FFTP Project Manager and Clerk Andrea Benjamin and Tonya France respectively for keeping the ball rolling at all times. According to one resident, the Arawaks of Mashabo referred to themselves as "Mashadia", which means "Aint get nothing". The just inaugurated project has changed this.
The men and women of the community have been placed into groups to upkeep the various agricultural projects; some taking care of the fish pond, others the green house but the children find themselves helping in every area possible. They also make good use of the newly constructed recreational area which contains swings and see-saws and one child said, "plus we gat nuff space for play cricket to".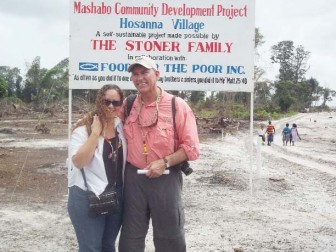 The day's events included songs in the Arawak language and two delightful dances by residents. Students of the New Opportunity Corps offered steel pan renditions throughout the day's activities.
The new community which is approximately one and a half hours journey from Parika, houses a nursery and a primary school with a fully furnished library compliments of Food for the Poor, a Seventh-day Adventist church, a community centre which doubles as a health centre, a recreational park and the above mentioned agricultural project.
Around the Web