A 12-year-old boy narrowly escaped death on Saturday when a lantern post fell in his path after a canter crashed into it and subsequently spun out of control, pitching the child into a nearby trench before hitting a second lantern post and coming to a halt.
Derick Naitram, of Land of Canaan, East Bank Demerara, suffered injuries to his head and right knee which doctors have told his parents had a pre-existing condition that has been worsened by the hit.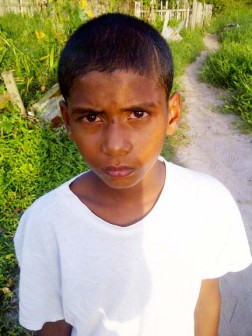 According to the boy's mother, Simone Tsoi, her son left their home sometime after three to go to the East Bank Public Road where he would usually sell iguanas to persons travelling that route.
"I went out morning and come in back but afternoon ya does catch flight, when people passing they does buy so he left to go then," she said.
She indicated that her son related to her that he was at the time concentrating on some boys who were playing in a nearby yard and as a result, did not notice the vehicle approaching.
"He say he hear blam, he hoist off he foot and he see the vehicle spinning… the impact of the post hit he and when the vehicle spin it jam he and pitch he way then it skate and hit the other post then end up in the trench," she explained.
Reports are that members of the U.S. Military, who are currently training in Guyana, were passing the area when the accident occurred and assisted in transporting the child to the Georgetown Public Hospital.
The boy's mother said she received the news shortly after and rushed to the hospital where she found her son in the Accident and Emergency Unit. She said he was required to have two x-rays, one of which revealed that Derick's right knee had a preexisting growth which has now become irritated as a result of the accident.
"They telling me my child got something growing in his foot but he never complain of nothing wrong with his foot or nothing," she stated, adding that further advice is expected to be given at a later date by another doctor.
His head was also bruised and swollen but he suffered no other major injuries. The swelling has since reduced.
The man who was driving the canter has since been arrested and according to Tsoi, is in police custody assisting with investigations.
"He been drinking, all three of them in the vehicle been drinking…even they boss behaving bad and said he knock them off since 1 o'clock fuh go home and they tek he vehicle and gone pon they own business," she said.
The woman explained that she is a mother of nine and cannot afford to send all her children to school. As a result, Derick has not attended school for several months and instead stays home and helps her in selling iguanas daily. "For this short while he ain't go because things ain't nice," she said.
Around the Web