Women's contribution to the county of Berbice was praised on Friday when the Berbice Regional Health Authority (BRHA) held its annual observance for International Women's Day and women were urged to keep fighting for equal rights since this battle was far from over.
Waxing poetical in a tribute to women, Minister of Agriculture Dr Leslie Ramsammy said: "There are seven wonders in the world and if these world wonders are gone the world will still be beautiful, but if women are gone then the world will be an ugly place."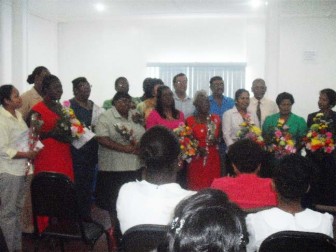 Ramsammy, lauding women's roles around the world, pointed to developing countries like Trinidad and Tobago, Brazil and Argentina who now have women as their leaders. He said women are now CEOs of big companies, international banks, and organizations. He also mentioned US Secretary of State Hilary Clinton, calling her the most powerful woman in the foreign affairs industry. He also noted that Guyanese women had served in some of the highest positions in the land – president and prime minister and at present, deputy speaker of Parliament.
Ramsammy reflected too on the struggles women face including domestic violence.
Ramsammy said the truth is often never revealed because people are ashamed of what would happen but "we should be bold and speak out against domestic violence against women; government can create all the laws but if actions are not taken the laws will not be beneficial".
He said while Guyanese women should be proud of their achievements they should continue the global fight for equal rights.
Indra Chandarpal of the Women's Progressive Organisation said it was clear that women in today's society have advanced and in the Caribbean women's achievements have increased. Women should be proud of this, she said, because they are countries in the world that do not allow women to express their rights because of cultural prejudice.
Chandarpal said it must be recognized that women who work in the home are not housewives, they are CEOs of homes, because women's work has value.
She also to pointed services and protection afforded to Guyanese women, like the Women's Affairs Bureau and the Domestic Violence and Sexual Offences acts. While Chandarpal was on the topic, she noted that people hid a lot of these cases and this should stop.
She said that the work must be continued as there was still a lot to be done.
She congratulated all women for their achievements.
Also present at the celebration were Chief Executive Officer of the BRHA and Regional Chairman for Region Six David Armogan and other members of the organisation.
The event also featured cultural items and a presentation of certificates to outstanding women in society for their contributions made one way or another.
International women's day will be observed on March 8 under the theme 'Empower Rural Women – End Hunger and Poverty'.
Around the Web