Residents of Block 22 and Amelia's Ward, in Linden say moss has been flowing through their taps and they are calling for an urgent intervention by the Guyana Water Inc (GWI).
"This thing is overbearing now," said Leon Joseph of Block 22, Wismar, Linden. "For too long this nonsense has been going on and all they keep talking all over the place is how much millions they spend in improving the water distribution in Linden and when in fact other than making things better, it just keep getting worse."
An angry Joseph had made repeated complaints to several officers of the water company at Linden. The Block 22 resident said he took a sample to the office of GWI and expressed his frustrations to the supervisor, Ms Fernandez (only name given), who promised to further the complaint for investigation.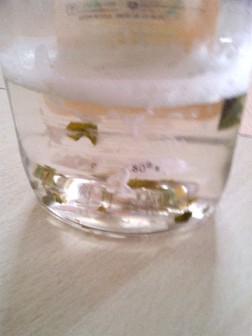 Contacted yesterday, GWI spokesman Timothy Austin said complaints were received and are currently being investigated. He said it was very likely that the problem of moss in the water is a result of a leak in the distribution system. According to him, a team of experts would be sent to the Block 22 and Amelia's Ward areas to have the problem investigated and rectified. "But as soon as you tell me about moss, I know for sure that has to do with leakage in the system," he said.
Several persons from the Block 22 area reported similar problems to Stabroek News and when this newspaper visited the area yesterday, more than five residents had containers of water, drawn from their taps, which were filled with green moss.
Some persons admitted that they did not make any formal complaint to the utility company but they complained about the quality of water they have been receiving since GWI's assumed responsibility for the water distribution system some years ago. "From brown water, to no water, to drips, then sprinkles and now moss. This is not fair at all, no matter how you twist it or turn it. In the early days, when we use to get water from Guymine, this nonsense never happen. Them people use to flush out deh system regularly. Now, these ain't doing nothing whatsoever," said a female resident, who asked not to be named.
The frustration was the same among several other residents in the Block 22 area. Some said that although they would leave their taps running for more than an hour before collecting water, the results were the same.
Others expressed concerns about the implications for their health, while noting that it was very easy for children to access the water at school or at home when parents were not around.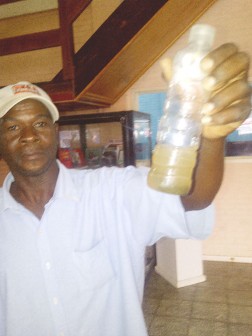 Meanwhile, last week, Coretta Braithwaite-Walton complained of the moss flowing through her tap at her 1825 Main Street, Central Amelia's Ward home. At the time, she said that she had been receiving the water for more than a week. Like those at Block 22, the Amelia's Ward resident said that although she allowed her tap to run for long periods, the water quality remained the same.
"Linden Hospital, look out fuh de children who gon come down with all sorts of sickness! It's because of this nasty, shameful water what you see coming through the pipe," said Braithwaite-Walton. She too suggested that the problem would have emanated from the non-flushing of the system by GWI.
Several of her neighbours had the same problem. "Nowadays you gat to by water even fuh bathing and washing yuh clothes, because yuh getting all sorts of skin conditions—boils, itch, sores—from dis water here. Even when you use it to wash yuh clothes, you got to mek sure you press it properly or you own clothes itching yuh skin," said one man.
Braithwaite-Walton said residents should be compensated by GWI for the period that they were not getting potable water. She suggested that, from the time a report is made to the time the problem is rectified, affected residents should not be billed. She added that officials from the Linden office of GWI have taken her complaints and samples of the water over the weekend and from yesterday she saw some improvement. "But I gon still be looking to see what's gonna happen," she said.
Meanwhile, residents at Richmond Hill have complained about rust and murky sediments in their water, saying they cannot remember the last time they received clear water. In response, Austin said that the situation was being addressed. "Mr [Rawle] Friday and the experts that are in Linden are for a fact addressing the situation at Richmond Hill as we speak," he explained.
Around the Web