EZjet Air Services Limited's CEO Sonny Ramdeo yesterday announced plans to expand the charter service to an airline, putting to rest rumours about the company's finances and its backers, including a connection to former President Bharrat Jagdeo.
Ramdeo, along with a team of officials who worked with other airlines in the United States, including North American airlines, announced that among the service's short-term aims is the recruitment of 24 Guyanese flight attendants.
The new airline, which started operating a Boeing 767 aircraft on weekly flights between Guyana and JFK airport in New York in December last year, has faced much scrutiny about its founders and core investors.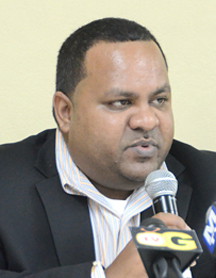 Ramdeo, yesterday sought to reassure about the financial capabilities of the airline as well as its ability to remain in the sector, and he insisted that EZjet is not operating at a loss, has funds in an escrow account and does not have former president Bharrat Jagdeo as one of its investors. . The 34-year-old banker explained that the service was established by way of a US$1.5 million investment by him and informed that he used part of his mortgage, retirement funds and investment options for its start-up.
"We waited in line and went through the appropriate procedures and measures to achieve status of an airline," Ramdeo said. According to him, the airline was established as a charter since there was not a significant amount of funds to invest in a more expansive venture.
"The charter programme is an option for us to build the airline," he said, while denying reports that the venture had been operating at a loss since its establishment. In January, he said, EZjet transported 4,300 passengers, while last month, it had 7,500 passengers. He said that tickets were only being sold in the US prior to the commencement of flights, since, according to him, the company is not too dependent on the market here until its support base is established and fortified.
He said the company forecast a loss during the planning] process, but "we are not operating at a loss as has been carried [in the press]." He said that if there were a small number of passengers, the company would rebook the passengers to other flights or other carriers and cancel the flight.
Ramdeo said flights have been paying for themselves and reiterated, "We are not a scheduled airline even though we operate on a regular schedule."
He said that in the US, ticket funds are stored in a special escrow account and once funds are released by the authorities there, the airline can access such funds. In Guyana, he disclosed, the funds are stored in an account at Scotiabank.
Asked why he chose to invest in an airline and not complete his mortgage payments, Ramdeo said his mortgage has no bearing on business opportunities he sees available. He said he was more focused on having the right team and a business plan.
"The fact that I have a $300,000 mortgage has no bearing whatsoever on a business idea that I have. What would I do tomorrow if I do pay off my mortgage?" he asked. He stated too that the airline operates with 1,500 gallons of fuel per flight and pays about US$2.92 per gallon, adding that the company does not benefit from government subsidies.
Richard Lee, an EZjet executive and former executive of North American Airlines which once travelled the Guyana-JFK route said he has seen airlines come and go here, but EZjet is working with a business model that has proven to be successful.
He said he also worked with the defunct Universal Airlines, and according to him, initially that airline functioned as a good venture but he noted that the airline's executives chose to go their own route in terms of planning for the venture.
As regards EZjet, he said, "We are in this initial period of capturing the market share to reach where the airline wants to be," adding that passengers remain the major revenue gainer for an airline; cargo and mail being among ancillary revenue sources.
Former World Airways administrator, Richard DuBois, is also an EZjet executive.
Meantime, Ramdeo noted that since EZjet's entrance into the travel market here, the price of tickets for the route has dropped from approximately US$320 to US$200. "It speaks volumes of the market capture that we have done within the industry," he said.
He said EZjet will soon recruit 24 flight attendants from Guyana as the airline attempts to reduce costs and continue to support its operations. The airline also plans to expand with flights to Toronto and later operate within the Caribbean region.
He said that the company's charter expires in July this year but the airline has already applied for an extension of the lease.
When asked frankly about the airline's investors, Ramdeo stated, "Let me put it this way, I have never met former president Jagdeo…", as he noted that he is the only Guyanese investor in the venture.
Over the years a number of airlines have entered the travel market here and have failed, the last being Universal Airlines. Arrow Air, Leisure Air, Air Transat and the former government owned GA 2000 all operated international flights to and from Guyana but ran bankrupt in the risky travel market.
At the same time, the country has been without a national flag carrier since Guyana Airways Corporation (GAC) ran bankrupt several years ago and such plans appear unlikely since Guyana is rated Category Two in the US Federal Aviation Authority (FAA) country ratings. A Category 2 rating means a country either lacks laws or regulations necessary to oversee air carriers in accordance with minimum international standards, or that its civil aviation authority – equivalent to the FAA for aviation safety matters – is deficient in one or more areas, such as technical expertise, trained personnel, and record keeping or inspection procedures.
Around the Web