MUMBAI,  (Reuters) – The International Cricket Council (ICC) has dismissed a Sunday Times report that it will investigate a 2011 World Cup semi-final for match-fixing while a Bollywood actress said she would sue the newspaper for using what she said was her picture with the story.
The British newspaper said on Sunday that Indian bookmakers, with the help of a Bollywood actress, had been fixing the results of English County Championship matches and international games.
It said it had evidence that tens of thousands of pounds was being offered to players to throw part or all of international matches, including last year's World Cup semi-final between India and Pakistan.
"The story carried by the newspaper, in which it has claimed that the ICC is investigating the ICC Cricket World Cup 2011 semi-final between India and Pakistan, is baseless and misleading," ICC Chief Executive Haroon Lorgat said in a statement.
"The ICC has no reason or evidence to require an investigation into this match.
"It is indeed sad for spurious claims to be made which only serve to caste doubt on the semi-final of one of the most successful ICC Cricket World Cups ever," Lorgat said.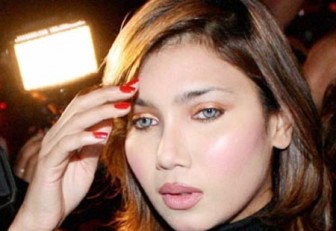 One of the bookmakers cited in the report said at least two New Zealand cricketers were also involved in fixing matches.
Nupur Mehta, a Bollywood actress who has appeared in two films, said a picture used for the story, of a skimpily-clad woman with her faced blurred, was of her.
"All I can say is that the journalist from the Sunday Times must be completely in love with me to make me famous in India and New Zealand, and even in London itself," Mehta told Reuters by telephone on Tuesday.
Mehta, who said she had modelled in Paris and Milan before moving to Bollywood, said she was consulting a lawyer and would send a legal notice to the newspaper in the next day or two.
"I have no linkage with these kind of people," she said.
Match-fixing claims have haunted cricket, and former Essex bowler Mervyn Westfield recently became the first English cricketer to be jailed for corruption after admitting that he took money to fix a match against Durham in September 2009.
Last year, Pakistan players Salman Butt, Mohammad Asif and Mohammad Amir were also jailed in Britain for their role in a spot-fixing scandal involving a Test match against England at Lord's in August 2010.
Around the Web