Police say Nigel Misidgain is wanted after having escaped from lawful custody on 2012-03-12.
He is 30 years of age and his last known address is Canje, Berbice.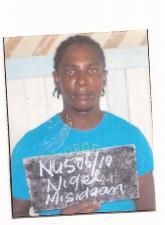 Anyone with information that may lead to the arrest of Misidgain is asked to contact the police on telephone numbers: 226-1326, 225-2227, 225-8196, 333-2151, 333-2191, 225-6411, 911 or the nearest police station.
All information will be treated with strict confidence.
Around the Web