A 15-year-old boy of Ketting, D' Edward, West Bank Berbice was electrocuted after he touched a welding plant that a rice farmer was using while repairing his combine at Cotton Tree.
Rashad Mohamed known as 'Imran' was rushed to the Fort Wellington Hospital where his death was confirmed. His mother, Nazeema Mohamed said he left home around 12:30 pm after having lunch to go out to meet the farmer, Omeer Khan.
She could not say exactly what the boy went there for but felt "he had to go and do some work in the backdam."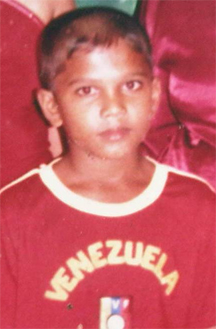 When Stabroek News contacted Khan last evening, he was still distressed over the tragedy. He related that the boy had asked him to bring out some "fence post" from the backdam for him.
He said he told him that he could not go yesterday and that he should "wait for tomorrow [today]" because he had the welder there doing some work as well as the painter.
But the boy did not go away and was looking at them working. Khan said the boy was "barefoot" and that the sand in the backyard was still wet from an earlier shower of rain and that could have contributed to his demise.
He said the boy was passing the plant when he came into contact with it. His son noticed what was happening and disconnected the power, while raising an alarm.
Khan, his son and the welder were detained for questioning at the Blairmont Police Station yesterday and later released.
Nazeema told this newspaper that around 1 pm a "boy come and tell me that Imran get shock." She said her husband went to the farmer's house to check but Imran had already been taken to the hospital. When he got there he learnt that the child had died.
The woman said her son attended the Cotton Tree School, a Primary Top and dropped out in second form. She said he would assist his father to plant a cash crop garden and would work as a labourer in the backdam sometimes.
Around the Web