A 45-year-old Canefield, East Canje businesswoman was brutally stabbed to death around 10:25 pm on Tuesday during a domestic row with her husband of 27 years and he has since gone into hiding.
Bibi Shameena Khairoodin, known as 'Sharmila' who operated a grocery sustained several stab wounds to her head as well as to her back and hand.
Her semi-nude body was discovered in a pool of blood on her bedroom floor in the lower flat. Neighbours summoned an ambulance which arrived at the scene within half an hour.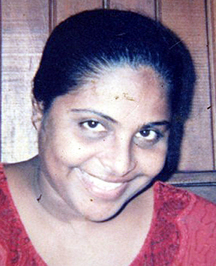 Police are hunting for her New York-based husband, Ramdani `Prak' Persaud, 46, a salesman at his sister's jewellery store in the US. The murder weapon was not recovered.
Reports are that a relative heard Khairoodin screaming for help and saw her covered in blood. Persaud was reportedly holding a knife.
Khairoodin's youngest brother, Arif told Stabroek News that although her body appeared lifeless he still hoped that she was still alive.
He assisted in lifting her onto the stretcher to the ambulance and accompanied her to the New Amsterdam Hospital where he begged the doctor to "save my sister's life."
The doctor returned shortly after and gave him the sad news of his sister's death but he was unable to accept it and told her [the doctor] to check again.
He recalled that around 11 pm he had received a call from a relative that his sister was murdered. He could not believe it and dialled the number at her home.  It was then confirmed.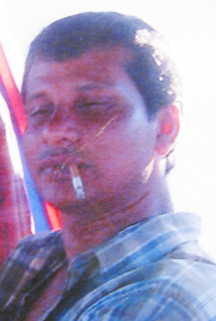 When he got there a large crowd had already gathered. He saw his sister's bloodied body in the room. There were also bloodstains from her hands at the bottom of the wall.
A neighbour said she did not hear the couple fighting but only heard when a relative screamed out for help. The man had already disappeared by the time they rushed over to the scene.
Reports are that Persaud left earlier that evening to "drink with his friends" and returned home around 9 pm.
The man would reportedly beat Khairoodin a lot. They said that her time was taken up in her shop and in her kitchen garden and that she would hardly leave the house.
Khairoodin's sister, Neta said she spoke to her a few hours before the murder and up to then she did not indicate that she had any problems. The eldest of six siblings, she described her as a "role model."
The woman's relatives said that although the man would beat her they did not think he would have been the type to attack her with a knife.
Another brother, Sheriff told this newspaper "the guy [Persaud] was a good guy, I don't know what went into his head to do that."
The relatives said too that Persaud was always kind to them and would see that they eat when they visited and even picked vegetables from the kitchen garden for them to take home.
They related that he had eased up consuming alcohol and smoking after the doctor asked him to do so because of a back pain. But recently, they said he started his drinking habit again.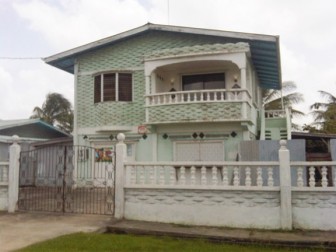 They said that the man who only went back to New York last November returned in January and was planning to develop a plot of land at New Forest to open a pig farm.
During his last visit he reportedly beat and threatened his wife and the matter ended up before the court.
Around the Web