The Guyana Human Rights Association has written to the acting Top Cop in connection with the David Ramnarine case pointing out that policing standards engender, among other things, that police officials who refuse unlawful superior orders shall be granted immunity.
GHRA's letter to acting Commissioner of Police, Leroy Brummell comes in the wake of a call by Home Affairs Minister Clement Rohee to Brummell for Ramnarine to be disciplined under the Police (Discipline) Act Chap 17:01 over a series of public statements he made about a $90M allocation for the sustenance of policemen and women during the elections period.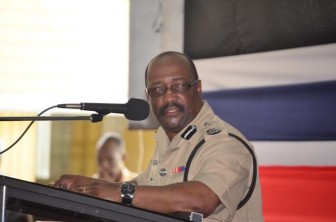 Brummell in a response to Stabroek News yesterday would only say that "Attention is being paid to" Rohee's call. Observers have said it is improper of the minister to demand that Brummell discipline Ramnarine. The latter's statements have raised freedom of speech issues and whether an officer in that position should be protected for speaking out against abuses.
GHRA in the letter to Brummell said "of particular concern are the recent statements in relation to this matter by the Minister of Home Affairs Mr Clement Rohee, in reacting to comments" in the press attributed to Ramnarine.
The GHRA letter, which was also copied to Rohee, emphasized that in relation to legal and ethical policing standards the police management has to respect rights contained in the Guyana Constitution. It cited the following specific responsibilities:
-police officials shall at all times fulfil the duty imposed on them by law to serve and protect the community and its members against illegal acts;
-police officials shall not commit any acts of corruption themselves and should rigorously oppose such acts by others;
-police officials shall respect the human dignity of all citizens and uphold the rights of everyone equally;
-police officials who refuse unlawful superior orders shall be granted immunity;
-all police officials are to be subject to continuous and effective report and review procedures.
In addition, GHRA said that it also enclosed with the letter copies of the Code of Conduct for Law Enforcement Officials  adopted by UN Member States in 1979 drawing specific attention to Article 7: "Law enforcement officials shall not commit any act of corruption. They shall also rigorously oppose all such acts".
The human rights group said that it was prepared to be consulted on other relevant instruments to which the Guyana Government has acceded on the obligations of state parties and police officials.
Around the Web